Microcontrollers suit general-purpose applications.
Press Release Summary: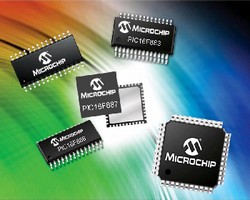 Series PIC16F88X is comprised of four 28- and 40/44-pin microcontrollers with dual internal oscillators, up to 14 ADC channels, and comparator module featuring 2 comparators and Set/Reset Latch to allow emulation of many analog circuits. Devices provide up to 14 Kbytes of Self-Write Program Flash, 256 bytes of Data EEPROM, and onboard in-circuit debug module for system troubleshooting. Applications include battery-operated systems, analog-intensive applications, and mechatronics.
---
Original Press Release:

Microchip Technology Unveils Latest Evolution of General-Purpose, Small PIC® Microcontrollers



PIC18F88X Family Offers High Performance, Low Cost and Ease of Migration

CHANDLER, Ariz., Nov 6, 2006 [NASDAQ: MCHP] - Microchip Technology Inc., a leading provider of microcontroller and analog semiconductors, today announced a new four-member family of 28- and 40/44-pin PIC® microcontrollers for use in a wide range of applications. The PIC16F88X family maintains compatibility with the PIC16F87XA family for easy migration, while providing a host of new features designed to save users time and money-both during and after their design cycle. The enhancements include dual internal oscillators with clock switching and fail-safe clock mode; more (up to 14) ADC channels; an advanced comparator module featuring two comparators and a Set/Reset Latch to allow emulation of many analog circuits; and low-power enhancements that extend battery life.

Embedded system designers' marketplaces are constantly changing. Quite often, functions and features are added to a customer's product in the middle of the design cycle, as new requirements emerge. Therefore, system designs must be fluid and easily adaptable in order to evolve with the changing landscape. These dynamics require a high degree of flexibility from the chosen microcontroller architecture. Microchip's PIC16F88X family is complemented by a vast portfolio of pin- and code-compatible PIC microcontrollers that enable customers to quickly move to the right part for their chosen application, without having to write all new code.

"With the introduction of the new PIC16F88X family, Microchip demonstrates its continued commitment to our customers' evolving needs," said Steve Drehobl, vice president of Microchip's Security, Microcontroller and Technology Development Division. "By adding new PIC microcontrollers with advanced features and backward compatibility, we continue to make it quick and easy to migrate across our 8-bit portfolio."

Microchip's broad portfolio of low pin count 8-bit PIC microcontrollers targets a wide range of general-purpose, horizontal applications, and the PIC16F88X family is no exception. Specific application examples include battery-operated systems and battery management, space-constrained and small form factor applications, analog-intensive applications (due to the rich on-chip analog peripheral set), and mechatronics.
Additional key features of the PIC16F88X microcontroller family include:
o Up to 14 Kbytes of Self-write Program Flash and low-voltage programming to enable field programmability
o Up to 256 bytes of Data EEPROM for variable data storage
o Onboard In-Circuit Debug module for simpler system troubleshooting
o Advanced Analog Peripherals
- Enhanced analog comparator module, featuring 2 comparators with Set/Reset Latch mode
- Up to 14 10-bit ADC channels
- 0.6V reference voltage for comparators and ADC
o Low Power Features
- Ultra Low-Power Wake Up
- Enhanced Low-Current Watchdog Timer
- Low-Power Timer 1 Oscillator
o Extended Watchdog Timer with low current draw
- Serial Communication Interfaces
- UART/SCI connectivity via EUSART module
- Master Mode SPI and I2C(TM) with Address Mask option
o Master Synchronous Serial Port (MSSP) with slave address mask
o Enhanced USART (EUSART)
o More General Purpose I/O, with up to 36 pins that can be used for I/O, and Interrupt-on-change capability for each I/O pin

Development Tool Support
The four new devices are supported by the full suite of Microchip's development tools, including the PICkit(TM) 2 Development Programmer (PG164120), $34.99, the free MPLAB® IDE integrated development environment, the MPLAB ICE 2000 emulator, and the low-cost MPLAB ICD 2 in-circuit debugger.

Availability and Pricing
The PIC16F886 and PIC16F887 microcontrollers are available now for general sampling at sample.microchip.com and volume production shipments at www.microchipdirect.com. The PIC16F883 and PIC16F884 microcontrollers are expected to be available in December. Pricing for this four-member family starts at $1.58 each in 10,000 unit quantities. The PIC16F883 and PIC16F886 come in 28-pin PDIP, SOIC, SSOP and QFN packages, while the PIC16F884 and PIC16F887 are available in 40-pin PDIP, and 44-pin QFN and TQFP package options. For additional information, contact any Microchip sales representative or authorized worldwide distributor, or visit Microchip's Web site at www.microchip.com/pic16f88x.

Microchip Customer Support
Microchip is committed to supporting its customers by helping design engineers develop products faster and more efficiently. Customers can access four main service areas at www.microchip.com. The Support area provides a fast way to get questions answered; the Sample area offers free evaluation samples of any Microchip device; microchipDIRECT provides 24-hour pricing, ordering, inventory and credit for convenient purchasing of all Microchip devices and development tools; finally, the Training area educates customers through webinars, sign-ups for local seminar and workshop courses, and information about the annual MASTERs events held throughout the world.

About Microchip Technology
Microchip Technology Inc. (NASDAQ: MCHP) is a leading provider of microcontroller and analog semiconductors, providing low-risk product development, lower total system cost and faster time to market for thousands of diverse customer applications worldwide. Headquartered in Chandler, Arizona, Microchip offers outstanding technical support along with dependable delivery and quality. For more information, visit the Microchip website at www.microchip.com.