Microcontrollers feature USB 2.0 On-The-Go functionality.
Press Release Summary: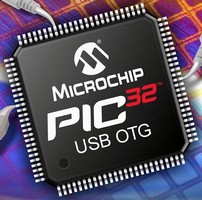 Offering 12 options to solve growing requirements for performance, memory, and USB OTG connectivity, PIC32 series maintains pin, peripheral, and software compatibility with Microchip's 16-bit MCU and DSC families. It is supported by MPLAB® IDE and can operate in host, device, and auto-negotiating USB embedded host/device. This enables designers to add all three modes of USB operation to their products. Model PIC32MX420F032H-40I/PT runs at 40 MHz and features 32 KB Flash memory.
---
Original Press Release:

Microchip Technology Adds New Low-Cost 32-bit USB On-The-Go PIC32 Microcontroller; Brings Seven to Volume Production



PIC32 Family Grows to 12 Members; PIC32 USB Starter Board Now Available

CHANDLER, Ariz., April 15, 2008 [NASDAQ: MCHP] - Microchip Technology Inc., a leading provider of microcontroller and analog semiconductors, today announced that, with the addition of a new low-cost family member with integrated USB 2.0 On-The-Go (OTG) functionality-and by bringing the first seven general-purpose members to volume production-the PIC32 family now provides customers with 12 options to solve their growing requirements for more performance, more memory and advanced USB OTG connectivity. Additionally, Microchip now offers 37 USB PIC® microcontrollers in 8-, 16- and 32-bit varieties, from a 28-pin PIC18 to a 100-pin, 80 MHz PIC32. While the PIC32 family brings more performance and memory to embedded designers, it maintains pin, peripheral and software compatibility with Microchip's 16-bit microcontroller and DSC families. To further ease migration and protect tool investments, Microchip's is the only complete portfolio of 8-, 16- and 32-bit devices to be supported by a single Integrated Development Environment-the free MPLAB® IDE.

Consumers' desire for more engaging, easy-to-use and upgradable products is driving embedded designers to add the latest USB OTG capabilities. Some products, such as PCs, operate only in a host role, whereas others-for example, USB Flash drives-operate only as devices. Products with OTG functionality can operate in either role-even auto negotiating which will be the USB embedded host or device when encountering another OTG product. The PIC32 microcontrollers with integrated USB OTG provide designers with the flexibility to add all three modes of USB operation to their products. Additionally, all PIC32 USB OTG family members feature a USB OTG PHY, enabling even lower BOM costs and smaller PCB real estate.

"PIC MCUs have long been the 8-bit microcontroller of choice for embedded USB applications," said Patrick Johnson, director of Microchip's High Performance Microcontroller Division. "With the addition of a new low-cost member to our USB OTG PIC32 MCU family and the production release of our initial seven members, Microchip continues to extend its leadership in the general purpose embedded MCU market with the most complete portfolio of over 500 8-, 16-, and 32-bit MCUs and DSCs all supported under a single development environment."

Example Applications
The PIC32 family of microcontrollers is targeted at a wide variety of embedded applications, including the following examples: Industrial (security systems, power meters, smart-card/bar-code/access readers, instrumentation); Medical (patient monitors, dosing pumps, blood analyzers); Automotive (vehicle dataloggers, radios, tachometers, vehicle tracking); Communication (power-line communication boards, media network controllers, GSM back-up controllers); Appliance (coffee makers, washing machines, fitness equipment, dishwashers, HVAC); and Consumer (GPS modules, home automation, MP3-player interfaces/adaptors).

Development Tools and Software Support
All PIC32 family products are supported by Microchip's world-class development tools, including the MPLAB IDE, the MPLAB C32 C compiler, the MPLAB REAL ICE(TM) emulation system, the MPLAB ICD 2 in-circuit debugger, and the MPLAB PM3 universal device programmer.

Microchip also provides free source code for USB software stacks and class drivers to enable designers to get a head start on the development of their USB applications. Microchip's free USB Host Stack, Device Stack, and Class Drivers (HID, MSD, CDC, Custom) are available at www.microchip.com/pic32libraries. The free USB OTG Stack is currently in beta evaluation, with full release scheduled for the second quarter of 2008.

The PIC32 family enjoys broad tool support throughout the industry. Complete tool chains are available from Ashling, Green Hills, Hi-Tech and Lauterbach-including C and C++ compilers, IDEs and debuggers. RTOS support is available from CMX, Express Logic, FreeRTOS, Micrium, Segger and Pumpkin. Graphics tools providers include EasyGUI, Segger, RamTeX and Micrium. A full list of third-party support for the PIC32 family can be found at www.microchip.com/PIC32.

USB Starter Board and Development Platforms
The PIC32 USB Starter Board has the same form factor and expandability as the general-purpose board included in the previously announced PIC32 Starter Kit. The PIC32 USB Starter Board is a low-cost entry point into high-performance USB host, device and OTG development. Complementing the PIC32 USB Starter Board is a suite of free, downloadable tools (including the MPLAB IDE and MPLAB C32 C Compiler Student Edition); free software (USB host, device and OTG stacks, and class driver source code); and documentation (application notes, data sheets and a family reference manual). Application expansion boards are also being made available, which plug into the expansion slot on the bottom of the Starter Board. The low-cost PIC32 USB Starter Board (part # DM320003) is available at www.microchipdirect.com.

Owners of the Explorer 16 development board can purchase a $25 USB OTG PIC32 plug-in module (part # MA320002) and a $60 USB PICtail(TM) Plus Daughter Board (part # AC164131). Both are available for shipment today at www.microchipdirect.com.

Pricing and Availability
The new USB OTG PIC32 family member, the PIC32MX420F032H-40I/PT, runs at 40 MHz and features 32 Kbytes of Flash memory, comes in a 64-pin TQFP package and establishes a new low-cost entry point for the PIC32 family with USB at $3.25 each in 10,000-unit quantities. Volume production for the first seven general-purpose members of the PIC32 family is available now. For sample availability or additional information, contact any Microchip sales representative or authorized worldwide distributor, or visit www.microchip.com/PIC32.

Microchip Customer Support
Microchip is committed to supporting its customers by helping design engineers develop products faster and more efficiently. Customers can access a new USB Design Center on-line at www.microchip.com/usb which features information on USB applications, solutions, datasheets, application notes, downloadable software and other useful USB resources. There is also a Microchip Support area with four main service areas at www.microchip.com. The Support area provides a fast way to get questions answered; the Sample area offers free evaluation samples of any Microchip device; microchipDIRECT provides 24-hour pricing, ordering, inventory and credit for convenient purchasing of all Microchip devices and development tools; finally, the Training area educates customers through webinars, sign-ups for local seminar and workshop courses, and information about the annual MASTERs events held throughout the world.

About Microchip Technology
Microchip Technology Inc. (NASDAQ: MCHP) is a leading provider of microcontroller and analog semiconductors, providing low-risk product development, lower total system cost and faster time to market for thousands of diverse customer applications worldwide. Headquartered in Chandler, Arizona, Microchip offers outstanding technical support along with dependable delivery and quality. For more information, visit the Microchip website at www.microchip.com.

Note: The Microchip name and logo, PIC, and MPLAB are registered trademarks of Microchip Technology Inc. in the USA and other countries. REAL ICE, and PICtail are a trademarks of Microchip Technology Inc. All other trademarks mentioned herein are the property of their respective companies.

More from Agricultural & Farming Products