Microcontroller executes 2 million instructions/sec.
Press Release Summary: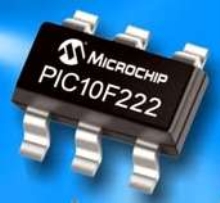 For space-constrained applications, PIC10F220 and PIC10F222 combine onboard 8-bit ADC with 8-bit Flash PIC® microcontroller in 6-pin SOT-23 package. Internal oscillator operates at up to 8 MHz with 33 instructions and 2 stack levels, while In Circuit Serial Programming(TM) enables programming after placement on board. Along with 1.125 ms Device Reset Timer, products feature 256-512 instructions of Flash program memory and 16-23 bytes of data RAM memory.
---
Original Press Release:

Microchip Technology Doubles the Performance of the World's Smallest Microcontroller


6-pin, Flash PIC10Fs with Analog-to-Digital Converter and Double the Operating Speed Continue to Open New Doors for Microcontrollers

CHANDLER, Ariz., July 18, 2005 [NASDAQ: MCHP - Microchip Technology Inc., a leading provider of microcontroller and analog semiconductors, today announced two new members of the world's smallest PIC10F microcontroller family - combining the new option of an onboard 8-bit analog-to-digital converter (ADC) with an 8-bit, Flash PIC® microcontroller in a 6-pin SOT-23 package. This functionality in an ultra-small form factor is well suited for an extremely wide range of space-constrained and low-cost applications. The PIC10F remains the first and only 6-pin microcontroller family in the world, and the increased performance and analog-to-digital converter serve to further expand non-traditional applications for digital intelligence.

"Since its introduction a year ago, the PIC10F family has seen tremendous market acceptance among both traditional and non-traditional microcontroller users," said Steve Drehobl, vice president of Microchip's Security, Microcontroller and Technology Development Division. "The fact that engineers have a microcontroller with an analog-to-digital converter that is the size of a surface-mount transistor, executing 2 million instructions per second, further expands the creative uses for PIC microcontrollers."

Features
The PIC10F 8-bit Flash microcontroller family adds two new members (PIC10F220 and PIC10F222) with a new 8-bit analog-to-digital converter, which compliments the comparator peripheral available on two of the four original family members. Standard features of the PIC10F microcontroller family include:

· Precision internal oscillator operating at up to 8 MHz with 33 instructions and two stack levels
· 1.125 ms Device Reset Timer (DRT)
· 256 to 512 instructions (x12-bit program words) of Flash program memory
· 16 bytes to 23 bytes of data RAM memory
· 25 mA source/sink current IO
· Low power (100 nA) sleep current
· Wide operating voltage range from 2- to 5.5-volts
· One 8-bit timer, and one watchdog timer
· In Circuit Serial Programming(TM) (ICSP(TM)) technology for programming after placement on a board
· Power-on reset, and power-saving sleep mode

Applications
The new analog-to-digital converter, faster (8 MHz) internal oscillator and improved (1.125 ms) DRT make the new PIC10F220 and PIC10F222 well suited for battery-operated, power supply and property identification applications. However, the PIC10F family is well suited for any spaced-constrained application requiring low pin-count microcontrollers. Additionally, the combination of small form factor, high performance and extremely low cost is being readily adopted by applications not traditionally served by microcontrollers, including: Electronic Glue (bugs fixes, late changes and other stopgaps for ASICs and PCBs); Logic Control (replacement for delays, smart gates, signal conditioning, simple state machines, encoders/decoders, I/O expanders and small peripheral logic functions); Waveform Generation (replacement for 555 timers, pulse-width modulators (PWMs), remote control encoders, pulse generation, programmable frequency source, resistor-programmable oscillators); Mechatronics/Mechanical Functions (replacement for smart switches, mode selectors, remote I/Os, timers, LED flashers, other mechanical timers and switches); 4-bit Microcontroller Replacement; Intelligent Disposable Electronics (pregnancy testers, fireworks, dialysis monitoring (blood sugar), drug testers).

Development Tools
The PIC10F family is supported by Microchip's world-class development tools, including the MPLAB® In-Circuit Debugger (ICD2) development tool. The MPLAB ICD2 is a powerful, low-cost run-time tool that offers cost-effective in-circuit Flash programming and debugging from the graphical user interface of the free MPLAB Integrated Development Environment (IDE) software. Tools tailored specifically for Microchip's low pin count microcontrollers include the PIC10F2XX Programmer Adapter (part # AC163020, available now), and the PICkit(TM) 2 Starter Kit (DV164120, availability expected in August).

Availability and Pricing
The PIC10F220 and PIC10F222 are offered in 6-pin SOT-23 packages. Limited sampling is available today, and volume production for both microcontrollers is expected by calendar Q4, 2005. In 10k quantities, the PIC10F220 is $0.65 each and the PIC10F222 is $0.74 each. For additional information, contact any Microchip sales representative or authorized worldwide distributor, or visit Microchip's Web site at www.microchip.com/startnow.

About Microchip Technology
Microchip Technology Inc. (NASDAQ: MCHP) is a leading provider of microcontroller and analog semiconductors, providing low-risk product development, lower total system cost and faster time to market for thousands of diverse customer applications worldwide. Headquartered in Chandler, Arizona, Microchip offers outstanding technical support along with dependable delivery and quality. For more information, visit the Microchip website at www.microchip.com.

Note: The Microchip name and logo, PIC, PICmicro, and MPLAB are registered trademarks of Microchip Technology Inc. in the USA and other countries. In-Circuit Serial Programming, ICSP, and PICkit are trademarks of Microchip Technology Inc. in the USA and other countries. All other trademarks mentioned herein are the property of their respective companies.

More from Thermal & Heating Equipment