Microanalysis System combines EDS, EBSD, and WDS.
Press Release Summary: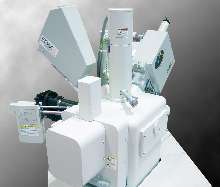 Offered as 3-in-1 analysis tool, Trident microanalysis system combines X-ray microanalysis (EDS), electron diffraction (EBSD), and wavelength dispersal spectrometry (WDS). System's hardware and software integrate all above-listed techniques into one PC environment with data sharing and combining. This enables scientists to characterize composition and structure of materials on micro-scale.
---
Original Press Release:
EDAX'S New Trident Offers Three-in-One Analysis Tool

Unique Microanalysis System Combines EDS, EBSD and WDS

MAHWAH, NJ - EDAX Inc. has combined X-ray microanalysis (EDS), electron diffraction (EBSD) and wavelength dispersal spectrometry (WDS) in its newly launched Trident microanalysis system.

The EDAX Trident System offers the unique combination of EDS, EBSD and WDS in a single analytical tool. The Trident combines the latest in technology for all three techniques. With the Trident System, the need to compromise the performance of one tool to optimize the performance of another is drastically reduced or eliminated, depending on the scanning electron microscope's chamber configuration.

Another valuable feature is the Trident's ability to integrate all three techniques into a single PC environment. The Trident system's hardware and software provide all three tools with data sharing and combining and improve the speed and accuracy of data processing. It also reduces the clutter of electronics in the modern microscopy lab.

"For scientists and engineers working on the development of new materials, it is important for them to be able to characterize the composition and structure of these materials on a micro-scale," explains Del Redfern, Materials Characterization Product Manager for EDAX.

"Whether the investigation concerns new, man-made or naturally occurring materials there is a need to determine the relationship between the physical properties, the morphology, the chemistry and the crystal structure."

"To aid the scientist or engineer in such investigations, there are a number of different techniques that can be used in combination with an electron microscope. Such techniques include EDS, WDS and EBSD," adds Redfern.

"The combination of these techniques provides the scientist with a powerful analytical tool to help characterize the materials. A single system that can accommodate all three techniques is an especially powerful tool."

EDS for the elemental composition (chemistry), and EBSD for the crystallography (structure) have been used together or separately on the same system for the analysis of a material. To take full advantage of this combination, EDAX recently introduced its patented ChI-Scan application software.

"ChI-Scan is the name given to our chemical indexing software package that incorporates elemental composition into the crystal structure indexing process for increased accuracy and speed. The EDAX Pegasus System, which combines EDS and EBSD, allows this advanced analysis to be carried out," notes Redfern.

For additional analytical capability on a scanning electron microscope (SEM), a WDS spectrometer can be added to the EDS and/or EBSD system. The recently introduced LambdaSpecWDS from EDAX overcomes problems previously associated with interfacing SEM and WDS. The unique, compact design of the LambdaSpec allows it to be interfaced with almost any SEM, even those that were not originally designed to support such a spectrometer.

EDAX is the acknowledged leader in Energy Dispersive Microanalysis, X-ray Fluorescence and Electron BackScatter Diffraction instrumentation. It designs, manufactures, installs and services high-quality products and systems for leading companies in the semiconductor, metals, geological, biological, material and ceramics markets.

Since it's founding in 1962, EDAX has used its knowledge and experience to develop ultra-sensitive silicon radiation sensors, digital electronics and specialized application software that facilitate solutions to research, development and industrial requirements.

EDAX is a unit of AMETEK Process & Analytical Instruments. AMETEK, Inc., is a leading global manufacturer of electronic instruments and electric motors with annual sales of more than $1billion.

For further information about EDAX, contact us at:

EDAX Inc.

91 McKee Drive, Mahwah, NJ 07430

Tel: (201) 529-4880 7 Fax: (201) 529-3156

E-mail: info.edax@ametek.com

Website: www.edax.com
More from Controls & Controllers