Micro Positioning Stage features embedded drive electronics.
Press Release Summary: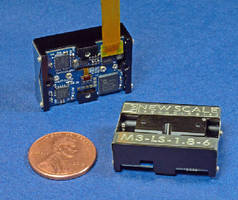 Available in developer's kit, M3-LS Linear Smart Stage is built for integration into miniature OEM systems. Closed-loop positioning is achieved with integrated absolute encoder with 0.5 µm resolution and 20 µm accuracy. Direct-drive micro stage, measuring 29 x 20 x 9.5 mm, includes low-friction ball bearings that enable operation in at any orientation while resisting shock, vibration, and temperature extremes. Operating on 3.3 V, stage offers travel range of 6 mm and operating force of 0.2 N.
---
Original Press Release:

New USB Micro Stage Developer's Kit Aids Development of Handheld, Portable and Mobile Instruments



World's only all-in-one micro positioning stage has embedded drive electronics for smallest size and unmatched ease of use in OEM systems



Victor, NY – New Scale Technologies (www.newscaletech.com) today announced that developer's kits for its tiny M3-LS Linear Smart Stage are available on DigiKey and Mouser.



The M3-LS Linear Smart Stage is a direct-drive, high-precision micro stage built for fast, simple integration into miniature OEM systems. Closed-loop positioning is achieved with an integrated absolute encoder with 0.5 µm resolution. This stage does not require homing or zeroing at first power-up. All drive and control electronics are inside the 29 x 20 x 10 mm micro stage and can be commanded directly by the OEM's system processor over a standard serial interface. The result is the smallest overall footprint and easiest system integration of any micro stage.



"All other micro stages on the market require an external controller that is many times larger than the stage" says David Henderson, CTO of New Scale Technologies. "They are unsuitable for use in today's handheld, portable and mobile (HPM) systems. As the only micro positioning stage with embedded drive electronics, the M3-LS is powering a new generation of HPM instruments that require precision motorized optical adjustments."



The M3-LS Linear Smart Stage operates on 3.3 volts and uses less than one Watt power when moving and zero when stopped. This is ideal for battery powered instruments. Precise and low-friction ball bearings enable operation in at any orientation while resisting shocks, vibration and temperature extremes.



M3-LS Smart Stage Specifications



- Model ……………………………… M3-LS-1.8-6            

- Dimensions ……………………… 29 x 20 x 9.5 mm

- Controller ………………………… Embedded in stage

- Serial Interface ………………… I2C or SPI

- Travel range …………………….. 6 mm

- Operating force ……………….. 0.2 N

- Speed at operating force .… 5 mm/s

- Resolution (closed-loop) …. 0.5 µm (absolute)

- Accuracy (closed-loop) ….… 20 µm

- Pitch and yaw ………………… < 1 mrad

- Input voltage …………….…… 3.1 to 3.6 V

- Weight ……………………….….. 8.4 grams                                  



Price and ordering information



The developer's kit model DK-M3-LS-1.8-6 is priced from $ 1,675 at Mouser and DigiKey. The developer's kit includes:

- One M3-LS-1.8-6  Linear Smart Stage

- One USB adapter and flex cable to connect the stage to a PC

- USB extension cable

- New Scale Pathway PC Software for stage evaluation and also for validation of the user's embedded software

- Tool and fasteners for mechanical assembly.



For more information about the M3-LS Linear Smart Stage visit http://www.newscaletech.com/micro-mechatronics/m3-linear-stages.php or view the developer's kit overview video at http://www.newscaletech.com/videos/m3-ls-microstage-dev-kit.php



About New Scale Technologies, Inc.

New Scale Technologies develops small, precise and smart motion systems for critical adjustments of optics, and many other micro positioning applications. Our simple and elegant solutions deliver best-in-class performance in handheld, portable and mobile instruments for medical, scientific and industrial applications. Our customers benefit from complete, "all-in-one" motion solutions that are tailored to their unique requirements and easily integrated into their next-generation instruments.



Heidi Quinlivan, New Scale Technologies

(585) 924-4450, NSTsales@newscaletech.com

More from Thermal & Heating Equipment