Micro Plate Heat Exchangers optimize heat transfer.
Press Release Summary: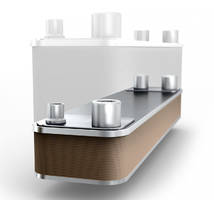 Micro Plate Heat Exchangers are available for single and dual circuits for chillers and heat pumps in capacities ranging from 90 to 400 kW. These units are compatible with R-134a, R-448A, R-449A, R-452A and R-290 refrigerants. The Z-pattern plate technology improves heat exchanger efficiency by mixing liquid and gas refrigeration in zigzag flow. Units are suitable for use in hotels, office spaces, and data center applications and come in carbon footprint.
---
Original Press Release:
Danfoss Extends its Range of Innovative Z-Design Micro Plate Heat Exchangers
The first model in Danfoss' range of Micro Plate heat exchangers, MPHE, with Z-pattern design was released at the end of 2016. The range has now been extended to include new models to progressively cover more applications.
Danfoss has announced an extension to its range of innovative Z-design Micro Plate heat exchangers. Z-design technology offers water chiller and heat pump manufacturers the opportunity to improve the economic and environmental efficiency of their equipment. The innovative Z-pattern channel plate technology enhances performance of the heat exchanger by fully mixing liquid and gas refrigeration through a "zigzag" flow.
From 90 to 400 kW capacity range with higher efficiency and lower refrigerant charge
The Z-design range now includes custom-size heat exchangers with capacities from 90 to 400 kW with R-410A. Optimized for R-410A, they can, however, be used with other commercial air-conditioning refrigerants such as R-410A replacements including flammables, and are compatible with refrigerants for commercial refrigeration like R-134a, R-448A, R-449A, R-452A, R-290, and more.
The main benefits of the Z-pattern design include optimized heat transfer and a reduced loss of charge for the water circuit, which contribute to higher energy efficiency, and lower energy consumption and refrigerant charge.
The reduced internal volume represents a smaller refrigerant charge and reduced installation costs.
The high heat transfer also limits CO2 emissions.
A reduced number of plates represents a limited weight and carbon footprint.
The new C118(L)-EZ is a single-circuit evaporator for use in high-efficiency chillers with a capacity of 70-250 kW, optimized for refrigerant R-410A. It is available in comes two versions: one for 435 psi/30 bar design pressure, and one for 653 psi/45 bar design pressure.
Available for single and dual circuits
These heat exchangers are compatible with other Danfoss product groups including oil-free systems.
Single or double circuit models are available for chillers and heat pumps dedicated to large commercial buildings such as hotels, office spaces, and data centers. They are also suitable for new applications dedicated to heat recovery, such as heat transfer between data center cooling systems and central heating.
"We have completely redesigned the circulation of liquids and heat exchange in order to improve the energy performance of plate exchangers, all while optimizing installation costs and volumes for chillers and heat pumps and reducing refrigerant charge, which can be key in some installations," explains Victor Marinich, marketing director for air-conditioning controls, Danfoss.
Overview of the range by application type
                                                                          Air-Cooled                                                             Water-Cooled
 Application             Capacity             Evap.                      Cond.                                      Evap.                            Cond.
Chillers                   20-90 kW         C62L-EZ                  MCHE                                     C62L-EZ                      C62L-CX
                               70-250 kW       C118L-EZ                 MCHE                                     C118L-EZ                     C118L-C
                               70-250 kW       C117L-EZD              MCHE                                      C117L-EZD                 C117L-EZD
                               200-400 kW     C212L-EZD (2018)  MCHE                                 C212L-EZD (2018)            C212L-EZD (2018)
Heat Pumps           5-20 kW               N/A                        H62L-CX                             H62L-EZU                         H62L-CX
About Z-pattern design
Danfoss' new range of Z-design heat exchangers feature dimpled micro plates, which maintain the liquid's asymmetrical circulation in a Z-shaped pattern. This is an excellent way to optimize the surface area, which is dedicated to heat transfer, and to ensure perfect synchronization of the refrigerant's liquid and gas phases for better heat exchange with the water circuit.
As a result, fewer plates are needed to reach a specific capacity in comparison to the standard design, which makes it possible to reduce installation costs.
As architects and developers look for technologies that can adapt to their new low-energy building concepts, the impact of this innovation is significant. The entire range of Danfoss MPHE with Z-design was designed for use in both new and retrofit installations.
For more information or product selection, please visit www.hexact.danfoss.com.
Related