Michem® Wood Coating 44 Additive Slows Down Mold and Fungal Growth
Press Release Summary: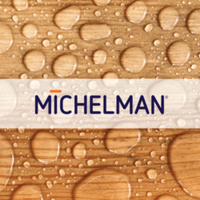 Michem® Low-VOC Wood Coating 44 Additive is used in exterior wood stains and sealants to improve weatherability characteristics to the wood coatings. This coating is resistant to water for waterborne deck stains and sealants. Michem® increases surface aesthetics and natural appearance.
---
Original Press Release:
New Low-VOC Topical Wood Treatment Raises the Bar for Water Resistance
MARCH 29, 2018
Michelman's new Michem® Wood Coating 44 is a water-based surface additive for use in exterior wood stains and sealants that helps produce wood coatings with excellent weatherability characteristics. This topical wood treatment is a low-VOC and environmentally responsible solution that imparts outstanding water beading, along with outstanding water and swell resistance.
Michem Wood Coating 44 penetrates deep into wood substrates and is user-friendly posing no re-coatability issues, so a second or third layer can be easily applied. With its superior water-resistant properties, the new additive improves surface aesthetics by slowing mold and fungal growth, and improving color integrity. Michem Wood Coating 44 also produces a pleasing, natural surface appearance and is particularly suitable for softwood as well as extending the look and use of outdoor wood furniture.
The easy-to-use exterior wood treatment is based on naturally occurring products. It is the latest addition to Michelman's family of low-VOC Michem Wood Coating solutionsthat raise the water resistance standard for waterborne deck stains and sealants.
Michelman will introduce Michem Wood Coating 44 at the American Coatings Show 2018 being held April 10-12, 2018 at the Indiana Convention Center in Indianapolis, Indiana. Mr. John Jacquin, Michelman's Technical Service & Application Development Manager, has a product presentation on April 10th at 2:40 pm, outlining its benefits and uses.
Visitors to the show can learn more in Michelman's booth #749.
Michelman is a global developer and manufacturer of environmentally friendly advanced materials for industry, offering solutions for the coatings, printing & packaging and industrial manufacturing markets. The company's surface additives and polymeric binders are used by leading manufacturers around the world to enhance performance attributes and add value in applications including wood and floor care products, metal and industrial coatings, paints, varnishes, inks, fibers and composites. Michelman is also well-known as an innovator in the development of barrier and functional coatings, as well as digital printing press primers that are used in the production of consumer and industrial packaging and paper products, labels, and commercially printed materials. Michelman serves its customers with production facilities in North America, Europe and Asia, product development and technical service centers in several major global markets, and a worldwide team of highly trained business development personnel.
More from Fluid & Gas Flow Equipment