Mezzanine Card features 1.8 GHz Pentium M processor.
Press Release Summary: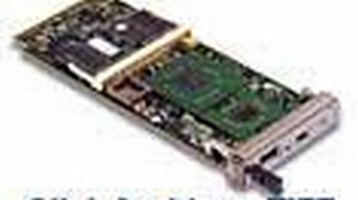 Half-height KosaiPM enables users to add control and packet processing to small-form-factor MicroTCA systems and low-profile custom carrier blades equipped with AdvancedMC sites. Hot-swappable Pentium M-based module features 2 Mbytes Level 2 cache, 2 Gbytes of DDR SDRAM with ECC, USB 2.0 interface, and front panel RS-232 console interface. AdvancedMC interface combines dual Gigabit Ethernet channels and 1 x 8 or 2 x 4 PCI Express interface.
---
Original Press Release:

Pentium-based Module Ideal for Small Form Factor MicroTCA Chassis and Custom Blades Equipped with AdvancedMC Sites



Madison, WI. January 4, 2006 - - Artesyn Communication Products, a subsidiary of Artesyn Technologies (NASDAQ: ATSN), today announced a half-height version of its KosaiPM Advanced Mezzanine Card. The new half-height module makes it easy to add control and packet processing performance to small-form-factor MicroTCA systems and low-profile custom carrier blades equipped with AdvancedMC sites.

"We see telecom OEMs adding AdvancedMC sites to proprietary telecom blades with tight pitch constraints," said Jeff Durst, director of product marketing at Artesyn. "We also see interest in using half-height modules within small-form-factor MicroTCA systems. Our new half-height KosaiPM modules enable telecom OEMs to squeeze more processing power into tight spaces, whether they're using a proprietary carrier or a standard MicroTCA shelf."

The KosaiPM is a hot-swappable, Pentium-based, half-height AdvancedMC card. It makes an ideal control plane processor for optical and wireless infrastructure. It is also ideal for augmenting packet processing and routing performance in voice gateways, and for enhancing protocol processing performance in SS7 and SIGTRAN signaling control points and gateways.

The KosaiPM features a Pentium M processor operating at speeds of up to 1.8 GHz, two Mbytes of Level 2 cache, up to two Gbytes of DDR SDRAM with ECC, a USB 2.0 interface, and a front panel RS-232 console interface. The KosaiPM's high-speed AdvancedMC interface combines dual Gigabit Ethernet channels and a 1 x 8 or 2 x 4 PCI Express interface. The KosaiPM also features an I2C-based Intelligent Platform Management Interface (IPMI), which enables the module to be monitored and controlled by remote shelf management controllers. Mass storage support includes an on-board storage interface, which gives the KosaiPM access to Serial-ATA (SATA) hard drives residing on either the carrier card or in other AdvancedMC bays.

Software support for KosaiPM includes Carrier Grade Linux. The half-height, RoHS-compliant KosaiPM will be available in Q1 2006.

About Artesyn Technologies, Inc.
Artesyn Technologies, Inc., headquartered in Boca Raton, FL., is a world leader in the design, manufacture and sale of power conversion and single-board computing solutions for infrastructure applications in telecommunications and data-communications systems. The Company's products are used in middle to high-end servers, data storage devices, routers, hubs, high-speed modems, RF amplification systems, base station controllers and transceivers. The Company has a global sales reach with design and manufacturing facilities in Asia, Europe and North America. Artesyn is a public company whose common stock is traded on the Nasdaq stock market under the symbol ATSN. For more information, please visit the Company's web site at artesyn.com.

Company Contacts
Kim Anderberg Marcom Manager, ACP
608-831-5500 KimA@artesyncp.com

Pamela Rembaum
Director, Investor Relations
561-451-1028
Pamela.Rembaum@artesyn.com

More from Cleaning Products & Equipment