Metering Pumps offer adjustable capacity from 0-100%.
Press Release Summary: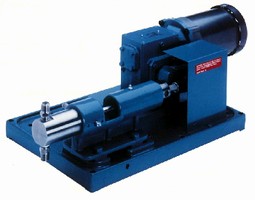 Available in simplex and duplex models, Hi-Flo(TM) packed plunger, positive displacement pumps offer capacities from 20-682 gph at pressures up to 7,200 psi with accuracy of ±0.5% at steady state. Single ball check valve on both suction and discharge side of pump provide accurate metering. Duplex pump pistons are normally 180° out of phase, but can be synchronized so that 2 fluids can be pumped simultaneously. Stroke rate is automated using variable-speed drive.
---
Original Press Release:

Heavy-Duty Packed Plunger Metering Pumps



Jaeco Hi-Flo(TM) packed plunger, positive displacement, metering pumps provide heavy-duty, virtually maintenance-free, accurate metering of both chemicals and solutions at higher flow rates and/or pressures. Available in both simplex and duplex models, pump capacities, range from 20 to 682 GPH at pressures up to 7,200 PSI with an accuracy of ± 0.5% at steady state.

Pump capacity is adjustable from 0 to 100% by varying piston stroke length, but only while the pump is stopped, as a safety precaution and for tamper resistance. Stroke rate is easily automated using a variable-speed drive.

A single ball check valve, standard on both suction and discharge side of pump, provides accurate metering and fast response. The valve ball turns with the fluid flow, constantly presenting a new face to the seat, while also making it self-cleaning. Larger model pumps have a clamped column, suction and discharge check valve assembly that can be easily cleaned, inspected or replaced without breaking pipe connections.

Duplex pump pistons are normally 180° out of phase, but can be synchronized so that two fluids can be pumped simultaneously. Different size pistons can be used on each side of duplex pumps to produce different outputs.

Jaeco Hi-Flo pumps are supplied on base plate with or without motor. A wide range of motor options and accessories are available.

Jaeco also manufacturers Diaphragm metering pumps with capacities from 0.8 to 56 GPH at pressures up to 1,200 PSI, stainless steel (SS) ball and poppet check valves and SS compression fittings.

Jaeco Fluid Systems, Inc., 17 Lee Blvd., Suite, D, Malvern, PA 19355-1234 Toll Free: 877-778-3456, Fax: 610-407-7211, e-mail: rmurdy@jaecofs.com, web: www.jaecofs.com

More from Sensors, Monitors & Transducers