Metering Pumps handle CO2 at high pressures.
Press Release Summary: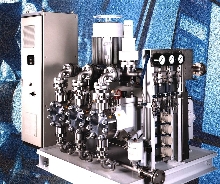 LEWAtriplex(TM) Monoblock Metering Pumps feature leak-free, sealless diaphragm with positive displacement and low pump head volume. Capable of handling liquid CO2 at up to 10,000 psi, pumps use multi-layer PTFE- or metal diaphragm, 1 crankshaft machined to 120 deg, roller bearings on both ends for full support, and shock-resistant sleeve bearings on connecting rods. Triple-throw crankshaft drives all 3 pump heads and is fully immersed in oil.
---
Original Press Release:
Process Metering Pumps Handle Liquid CO2 At High Pressures

A full line of sealless diaphragm metering pumps that can be integrated into a wide range of transfer, process, and recirculation systems for handling highly volatile fluids such as supercritical CO2 at high pressures is available from AMERICAN LEWA, INC. of Holliston, Massachusetts.

LEWAtriplex(TM) Monoblock Metering Pumps for CO2 Applications feature leak-free, sealless diaphragm technology with positive displacement and low pump head volume. Capable of handling liquid CO2 at up to 10,000 psi., these heavy-duty pumps use a multi-layer PTFE- or metal diaphragm, one crankshaft precision machined to 120 deg, roller bearings on both ends for full support, and shock-resistant sleeve bearings on the connecting rods.

Inherently cool-running because of the efficiency of the diaphragm, which keeps CO2 in the liquid state, LEWAtriplex(TM) Monoblock Metering Pumps for CO2 Applications can be equipped with cooling jackets and special materials, if required, to meet user requirements. Providing smooth output, the triple-throw crankshaft drives all three pump heads and is fully immersed in oil.

LEWAtriplex(TM) Monoblock Metering Pumps for CO2 Applications are priced from $25,000. up, depending upon configuration. Literature and quotations are available upon request. Representative/distributor inquiries invited.

For more information contact:

AMERICAN LEWA, INC.
Kenneth P. McQuesten, Sales Manager
132 Hopping Brook Rd. / P.O. Box 6820
Holliston, MA 01746
(888) LEWA123 FAX (508) 429-8615
e-mail: sales@amlewa.com
www.amlewa.com

Venmark International
148 Linden Steet, Suite 105, Wellesley, Massachusetts 02482 USA
(781) 237-5860 Fax (781) 237-5862 e-mail: venmark@msn.com
More from Software