Metered High-Speed Servo Conveyors Merge Product In Milliseconds!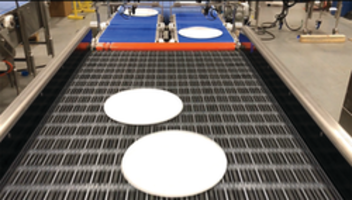 Multi-Conveyor (Winneconne, WI - www.multi-conveyor.com) recently built this metered servo merge conveyor as part of a larger system to transport packaged food.  The metering conveyor feeds a series of servo belt conveyors to gap two lanes of product into a single lane flow using DARB technology. 
A series of photo-sensors were strategically placed to sense product for the precise gapping needed to create a seamless high-speed merge without collision.  We've slowed the videodown slightly so you can witness the demo product pause (or gap) as needed before continuing to the single file merge.
The product transfers from a friction top chain metering conveyor to the high-friction top belt servo gapping conveyors, then roller transition merge through the final DARB belt merge.  Products run simultaneously on two lanes, doubling the parts per minute (PPM) when merged, while moving at extremely high-level line speeds.
Standalone electrical controls included Nemo 4X stainless steel enclosures, VFD's, servo drives, PLC, LED beacons and horns; and safety disconnects.
About Multi-Conveyor
Multi-Conveyor is a leading manufacturer of standard and custom conveyor solutions for End-Users, Integrators, Engineering firms, Automation/Robotics, AI, OEM's and Contract Packagers across multiple markets. We specialize in conveyor systems for packaging or material handling for nearly every industry, product, shape and size. Our customers report they select Multi-Conveyor for concept/design, engineering skills, quality product, best value and prompt delivery.
Multi-Conveyor excels in sanitary, easy to maintain, clean-in-place or "no tools required" belt changeover systems for nearly any industry.  We direct manufacture stainless steel and mild steel construction conveyors for table top chains, modular plastic belts, fabric belting and now custom MDR.  Our in-house electrical and engineering departments execute the controls, panels, devices, PLCs, VFDs, HMIs, safety, inspection and sensors needed to integrate our systems with multiple packaging platforms. Quick ship plastic chain and low-profile, small transfer, pre-engineered sanitary and non-sanitary belt systems are available for quick delivery.
All of these construction designs, technologies and solutions, along with over 90 conveyor videos, can be found on our comprehensive website: www.multi-conveyor.com.