Meter Cabinet monitors power in vertically stacked design.
Press Release Summary: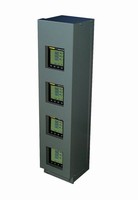 PowerLogic® High-Density Metering cabinet is 4 meter system with accuracy verified to ANSI C12.20. 0.5 Accuracy Class or ANSI C12.16. 1.0 Accuracy Class. Featuring tamper-resistant design, unit is available in Type 1 (indoor) and Type 3R (outdoor) forms and can be specified for single- and 3-phase power systems. In conjunction with PowerLogic Tenant Metering Commercial Edition software, it offers end-to-end cost allocation and sub-billing solution.
---
Original Press Release:

Column Width High Density Meter Cabinet Added to Square D® Powerlogic® Submetering Portfolio



PALATINE, Ill. - March 20, 2008 - Schneider Electric today announced that it has expanded its portfolio of advanced submetering products with the launch of a four-meter PowerLogic® High Density Metering (HDM) cabinet. The vertically stacked meter arrangement is an ideal space-saving solution for equipment rooms with limited available square footage. Comprising one-, four-, eight- and 16-meter configurations, the Square D® PowerLogic HDM family of preassembled, prewired cabinets are designed to be easy to specify, purchase and install, in both new and retrofit applications.

"The flexibility of the PowerLogic energy management system marks an evolution in commercial submetering," said James Clark, PowerLogic Submetering Business Manager. "Consumers drive the solution, and we adjust our offer to meet their specific applications. Whether it's for new construction or retrofit projects, we put the quality and versatility of Schneider Electric behind PowerLogic HDM cabinets in order to produce a product that augments our commercial submetering offer and helps our customers boost their profits, increase productivity and reduce downtime."

PowerLogic HDM cabinets are designed to offer a low installation cost, exceptional scalability and accuracy verified to national sub-billing standards (ANSI C12.20. 0.5 Accuracy Class or ANSI C12.16. 1.0 Accuracy Class). Occupying a fraction of the space of traditional meter centers and available with a choice of PowerLogic meters, they are available in a variety of configurations and voltage ranges to suit virtually any application and budget. In conjunction with PowerLogic Tenant Metering Commercial Edition software, HDM cabinets offer an end-to-end cost allocation and sub-billing solution to help commercial facilities eliminate previously uncontrolled expenses and increase property values.

Available in Type 1 (indoor) and Type 3R (outdoor) forms, and offering a tamper-resistant design, the new four-meter PowerLogic HDM can be specified for single- and three-phase power systems. Like all products in the HDM range, the four-meter enclosure enables easy integration with existing energy management systems, remote terminal units or advanced PowerLogic energy management software. Such flexibility means an HDM solution can provide a quick and easy method for tenant utilities management, for energy consumption billing or to satisfy government regulations for energy-saving initiatives.

For more information, please visit www.powerlogic.com.

Headquartered in Palatine, Ill., the North American Operating Division of Schneider Electric had sales of $3.7 billion (U.S.) in 2006. The North American Operating Division is one of four operating divisions of Schneider Electric, headquartered in Paris, France, and markets the Square D®, Telemecanique® and Merlin Gerin® brand products to customers in the United States, Canada and Mexico. In the United States, Schneider Electric is best known by its flagship Square D brand, with Telemecanique becoming increasingly known in the industrial control and automation markets and supported by many Square D distributors. For more than 100 years, Square D has been a market-leading brand of electrical distribution and industrial control products, systems and services. Schneider Electric is a global electrical industry leader with 2006 sales of approximately $17.2 billion (U.S.). Visit Schneider Electric on the Internet at:

Corporate - www.us.schneider-electric.com
Telemecanique Products - www.us.telemecanique.com
Square D Products - us.squared.com
Merlin Gerin Products - us.merlingerin.com

Please send all reader inquiries to:
Square D Literature Fulfillment Center
W6545 Quality Drive
Greenville, WI 54942
Attention: Christine Lautenschlager
800-392-8781
or e-mail to: SquareD@banta.com

Schneider Electric
North American Operating Division
1415 South Roselle Road
Palatine, IL
60067-7399
Tel. (1) 847-397-2600
Fax (1) 847-925-7271
http://www.us.schneider-electric.com

More from Electronic Components & Devices