Metallization Paste supports solar cell processing.
Press Release Summary: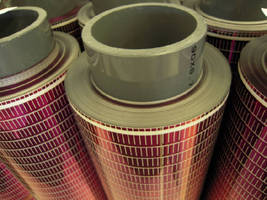 Designed for rotary screen printing, DuPont(TM) Solamet® PV414 enables high-speed roll to roll processing of thin and flexible solar cells and modules. Formula is engineered to ensure optimal printability and line resolution while maintaining adhesion to Transparent Conductive Oxide layer, low contact resistance, and maximum conductivity.
---
Original Press Release:

DuPont(TM) Solamet® PV414 Photovoltaic Metallization Enables Thin Film Modules from Flexcell



Advanced Formulation Delivers Capability for High Speed Roll to Roll Processing of Flexible Solar Substrates

BRISTOL, U.K., - DuPont Microcircuit Materials (MCM) has introduced the low temperature processing DuPont(TM) Solamet® PV414 photovoltaic (PV) metallization paste designed for rotary screen printing to enable high speed roll to roll processing of thin and flexible solar cells and modules. The new offering was recently qualified at Flexcell, a leading Swiss producer of flexible amorphous silicon thin film modules for building integrated photovoltaics (BIPV) and mobile solar chargers. Solamet® photovoltaic metallization pastes are key to higher efficiency and lower system costs for both crystalline silicon (c-Si) and thin film PV.

"Roll to roll processing can offer huge productivity benefits to thin film photovoltaic module manufacturers like Flexcell, and we are very pleased that we were able to optimize the new Solamet® PV414 for their process," said Kerry Adams, business development manager - DuPont Microcircuit Materials. "Metallization pastes must be carefully adapted for rotary screen printing on thin film substrates to ensure material, and therefore cost, is not wasted and high efficiency is maintained. We will continue to expand Solamet® offerings for thin films as well as traditional crystalline silicon PV technologies to ensure high efficiency and lower overall system costs."

Standard metallization pastes do not typically perform well with rotary screen printing, so DuPont put its science to work to utilize the performance characteristics of the latest thin film metallization chemistry platform, Solamet® PV41x, and optimize it for this novel laydown technology. The extensive development work resulted in the formulation of Solamet® PV414 for rotary printing.

"Flexcell has become a best-in-class manufacturer of flexible thin film modules because of our unique manufacturing process and the commitment we have to using quality materials," said Diego Fischer, chief technology officer - Flexcell. "DuPont shares our commitment to quality materials and process optimization, and the collaboration on the project has been very successful."

Solamet® PV414 is engineered to ensure superior printability and line resolution while maintaining excellent adhesion to the Transparent Conductive Oxide (TCO) layer, very low contact resistance and outstanding conductivity. Additional products in the Solamet® PV41x low temperature metallization family are adaptable to Copper Indium Gallium Selenide (CIGS), Cadmium Telluride (CdTe), Silicon Heterojunction (SHJ), Dye Sensitized Cells (DSC) and Organic Photovoltaic (OPV) technologies.

DuPont Microcircuit Materials has over 40 years of experience in the development, manufacture, sale, and support of specialized thick film compositions for a wide variety of electronic applications in the photovoltaic, display, automotive, biomedical, industrial, military, and telecommunications markets. For more information on DuPont Microcircuit Materials and Solamet® metallization pastes, please visit mcm.dupont.com.

DuPont(TM) Solamet® photovoltaic metallizations are part of a broad and growing portfolio of products represented by DuPont Photovoltaic Solutions (DPVS), which connects science and technology from across the company on a global scale to help support the dramatic growth in the photovoltaic industry. To learn more, please visit photovoltaics.dupont.com.

DuPont (NYSE: DD) has been bringing world-class science and engineering to the global marketplace in the form of innovative products, materials, and services since 1802. The company believes that by collaborating with customers, governments, NGOs, and thought leaders we can help find solutions to such global challenges as providing enough healthy food for people everywhere, decreasing dependence on fossil fuels, and protecting life and the environment. For additional information about DuPont and its commitment to inclusive innovation, please visit www.dupont.com/ .

The DuPont Oval Logo, DuPont(TM), The miracles of science(TM) and Solamet® are registered trademarks or trademarks of DuPont or its affiliates.


More from Mounting & Attaching Products