Metal Switches offer multicolor illumination.
Press Release Summary: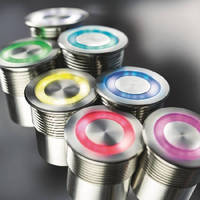 Using RGB color technology, PSE Series Piezo Switches and MCS 30 Mechanical Switch each offer 7 ring illumination colors. Multicolor illumination is powered by integrated power supply that accepts input voltage of 5–28 Vdc, and constant brightness intensity is maintained regardless of applied voltage. PSE Series, offered in 22, 24, 27, and 30 mm diameters, has IP69K rating and no moving actuator. MCS 30 comes in 30 mm diameter and uses tactile switch that provides clear haptic feedback.
---
Original Press Release:

Metal Line Switches with Multicolor Illumination and Variable Input Voltage



Santa Rosa, California, – SCHURTER is expanding its metal switch range to include new illumination possibilities, through the use of RGB color technology. It is now possible for the piezo switch series, PSE, and mechanical switch, MCS 30, to have seven different ring illumination colors with just one switch. The multicolor illumination is powered by an integrated power supply that accepts an input voltage of 5 - 28 VDC.



The new multicolor illumination of the PSE and MCS 30 series is made easy using convenient color-coded wires in each of the illumination colors. The constant brightness intensity is maintained regardless of applied voltage. The standard version is offered in red, green, and blue. Additional color options include yellow, cyan, magenta and white, which can be made through additive color mixing. As soon as 2 or 3 wires are connected to the supply voltage at the same time, the result is a mixed color. The traffic light colors of red, green, and yellow (RGY) for status indication are also available as a standard version No additive color mixing is required to produce the color yellow.



The new RGB multicolor illumination option greatly expands the application range of the PSE and MCS 30 button style switches. The PSE is available in 22 mm, 24 mm, 27 mm and 30 mm diameters; the MCS 30 is available with a 30mm diameter. The PSE has an IP69K ingress protection rating. It has no moving actuator and is thus absolutely impervious to any leaks or accumulation of dirt underneath or around the switch surface. This technology is ideal for hygiene-related applications such as medical equipment, food processing equipment and outdoor applications subject to vandalism such as ticketing machines.



The MCS 30 is an alternative to the highly robust solid-state PSE. It is also designed for demanding applications, although it uses a tactile switch that provides a clear haptic feedback. It has a lifetime rating of one million actuations, as opposed to the PSE's 20 million operations. The switch contacts are sealed from the front and rated IP65.



Pricing for PSE Multicolor Illumination starts at $69.00 each per 100 pieces. The MCS 30 Multicolor starts just under $50.00 per 100 pieces. Data sheet and additional information is available at: http://multicolor.schurter.com. For sales and product information, contact Cora Umlauf at (800) 848-2600 or by email at info@schurterinc.com.



About SCHURTER Inc.

SCHURTER is a progressive innovator and manufacturer of Circuit Protection, Connectors, Switches, and EMC Products to the electronic and electrical industries worldwide. SCHURTER's three divisions: Components, Input Systems and Electronic Manufacturing services are formed to provide customer specific products and services, which focus on clean and safe supply of power and making equipment easier to use. These core competencies bring a high degree of innovation to SCHURTER's main markets IT / Telecom, Medical, Space and Renewable Energy.



SCHURTER meets its customers' highest demands through certified quality, environmental and safety management systems including ISO 9001, ISO 14001, OHSAS 18001 and highly developed processes (Six Sigma method). Excellent services are upheld through the consistent application of an all encompassing quality management system.



SCHURTER Inc., Santa Rosa, California is the exclusive North America sales and distribution office for the SCHURTER Group.



SCHURTER INC.

447 Aviation Boulevard

Santa Rosa, CA 95403

Telephone 707 636 3000

Facsimile 707 636 3033

www.schurterinc.com 



EDITORIAL CONTACT:

Suzanne Bowser

sbowser@schurterinc.com

More from Electronic Components & Devices