Vision and Imaging Sensors / Detectors
Memosens COS81D Optical Sensor offers measurement accuracy up to ±0.2%.
Press Release Summary: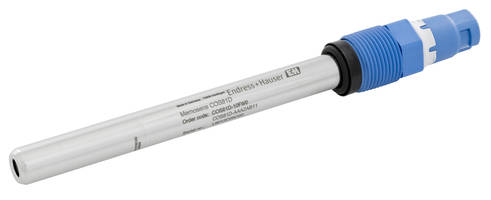 Memosens COS81D Optical Sensor used for measuring dissolved oxygen in fermenters and bioreactors in food, pharmaceutical and biotechnology industries. Unit operates in 15 to 280 °F temperature and 0 to190 psi pressure. Sensor is designed to withstand CIP and SIP procedures. Unit sends optical digital signal to a transmitter through cable and are available in C-shaped cap and a U-shaped cap versions.
---
Original Press Release:
Endress+Hauser Releases Memosens COS81D Dissolved Oxygen Sensor
The sensor accurately measures oxygen and temperature in demanding fermenter, bioreactor, water treatment and boiler feedwater applications.
Endress+Hauser releases the Memosens COS81D hygienic optical sensor for measuring dissolved oxygen in fermenters and bioreactors used in the food, pharmaceutical and biotechnology industries, as well in drinking water and boiler feedwater applications. It can be used in all measuring points from lab fermenters to production processes.
The Memosens COS81D measures dissolved oxygen, gaseous oxygen and temperature with accuracy up to ±0.2%. It works in process temperatures from 15 to 280 °F and pressures from 0 to190 psi. The sensor also provides temperature and partial pressure, as well as raw measured values. The sensor connects to a transmitter via a cable that transmits an optical digital signal.
The sensor withstands CIP and SIP procedures. The sensor is a compact stainless steel 12mm design with lengths currently up to 220 mm. The sensor has a low sampling volume, making it well suited for residual oxygen measurement in water treatment and boiler feedwater.
The stainless steel sensor meets EHEDG (type EL class I) and ASME BPE (including USP class VI and FDA conformity) hygienic requirements to avoid product contamination, and meets the requirements of GMP and GLP. It also has a Certificate of Compliance for biological reactivity tests as per USP (United States Pharmacopeia) part 87 and part 88 class VI, with batch traceability of materials in contact with product.
Two spot cap versions are available with the sensor: a C-shaped cap and a U-shaped cap. The first is particularly well suited to measurements in liquids, specifically in fermenters and bioreactors. The distinctive design of the U-shaped cap protects the spot from abrasion that can occur, for example, in gas measurements. The caps, specially designed for hygienic applications, reduce blockages and the adherence of air bubbles. Thanks to these caps, the sensor delivers extremely stable measured values across the entire measuring range. This stability is maintained even after dozens of CIP and SIP cycles.
The sensor can be replaced within seconds. The user simply calibrates the sensor in the lab, and then inserts it into the sensor holder assembly. It does not require any polarization time and is immediately ready to measure. The sensor has integrated electronics that store calibration data and other information, such as total hours of operation and operating hours under extreme measuring conditions. Once the sensor has been connected, the sensor data is transferred automatically to the transmitter and used to calculate the current measured value. Because calibration data is stored in the sensor, the sensor can be calibrated and adjusted independent of the measuring point.
Measured and calibration values in the sensor are sent to the transmitter using a non-contact connection that is free from potential interference. Memosens technology in the transmitter generates an automatic error message if the sensor fails, or if the connection between sensor and transmitter is interrupted.
The optical signals are continuously monitored and analyzed. The transmitter detects implausibly high or low measured values, irregular values due to incorrect measured values, and aging of the sensor cap. When errors are detected, the transmitter displays a warning and generates an error message.
For more information on the Memosens COS81D visit www.us.endress.com/COS81D.
About Endress+Hauser in the U.S.
Endress+Hauser is a global leader in measurement instrumentation, services and solutions for industrial process engineering. Endress+Hauser provides sensors, instruments, systems and services for level, flow, pressure and temperature measurement as well as analytics and data acquisition. We work closely with the chemical, petrochemical, food & beverage, oil & gas, water & wastewater, power & energy, life science, primaries & metal, renewable energies, pulp & paper and shipbuilding industries. Endress+Hauser supports its customers in optimizing their processes in terms of reliability, safety, economic efficiency and environmental impact. The Group employs 13,000 personnel worldwide and generated more than 2.2 billion dollars in 2016.
Contact This Company Download Spec Sheet
More from Test & Measurement