Measuring Microscope reads out in microns.
Press Release Summary: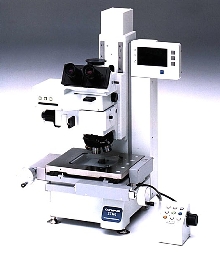 STM6 has rigid frame and stable measuring stages with embedded glass scales and read-out counter of 0.1 and 0.5 micron. It accepts fiber optic cold illumination, eliminating heat influence. Three stages, 50 x 50, 100 x 50 and 100 x 100mm, are available for various size samples. External data communication is via RS232 serial interface. Three reflected light illuminators are available: brightfield, darkfield, and Nomarski differential interference contrast.
---
Original Press Release:

Olympus STM6 Measuring Microscope Brings New Versatility And High Reliability To Measurement Needs With Its Compact Frame


Melville, NY - Olympus America Inc., Scientific Equipment Group, introduces the new STM6 Measuring Microscope. The STM6 offers the most compact body in its class with auto focus units and various accessories. Olympus UIS infinity-corrected optics provide superior image quality with the STM6.

Highly rigid frame designed through computer-simulated FEM analysis and new stable measuring stages with embedded glass scales and precise read-out counter (0.1 micron and 0.5 micron) provides high reliability and accurate measurement. The STM6 microscope stand accepts fiber optic cold illumination for eliminating heat influence. Three types of stages, 50mm x 50mm, 100mm x 50mm and 100mm x 100mm are available to accommodate various sizes of samples. External data communication function through RS232C serial interface is standard and can enhance connectivity with commercially available measuring software packages.

Optional motorized Z focusing is one of the beneficial characteristics for both focusing and measuring of height and depth. In addition, the auto focusing unit makes it possible to obtain stable measurement results by minimizing the dispersion caused by different operators.

Depending on observation method, user's can select from three types of Olympus UIS reflected light illuminators: brightfield, darkfield, Nomarski differential interference contrast (DIC). In addition, the STM6 and all illuminators are compatible with fiber optics. Newly designed UIS measuring objectives, 1X, 3X, 5X and 1OX, are available for applications that require long working distance objective lenses.

Additional accessories for the STM6: edge sensor unit can be easily added to the STM6 which will automatically detect the sample edge; magnetic XY reset switch for placement near stage control knobs enable an operator to reset the counter without releasing the knob.

More information about the STM6 microscope is available from Olympus America Inc., Two Corporate Center Drive, Melville, NY 11747.

E-mail: [email protected]
Website: www.olympusamerica.com
Phone #800-455-8236