Vision and Imaging Sensors / Detectors
MD Area Sensors come with IEC IP67 ingress protection rating.
Press Release Summary: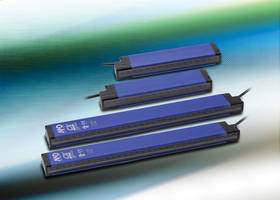 Available in CX0 basic and CX2 advanced versions, Micro Detectors area sensors are integrated with Teach-in functions which are used for adjusting product setting and blanking. CX0 series basic area sensors offer sensing distance up to 6m and detection height up to 320mm whereas CX2 advanced sensors come with 6m and 960mm respectively. Featuring LEDs which shows sensor status, alignment, optics condition and faults, products are cULus and RoHS rated.
---
Original Press Release:
AutomationDirect Adds Wide Area Sensors
AutomationDirect has expanded its sensors offering to include wide area sensors for object detection. The new area sensors from Micro Detectors (MD) are multi-beam, through-beam sensors with emitter and receiver elements used for detecting the presence of any object by sensing the light beam intensity returning from the receiver. The area sensors have an IEC IP67 ingress protection rating.
These MD area sensors are available in basic and advanced versions. CX0 Series basic area sensors have a sensing distance of up to 6m and a detection height up to 320mm. CX2 Series advanced area sensors also have a sensing distance of up to 6m with detection height of up to 960mm and offer analog outputs and a blanking function.
Available Teach-in functions with two levels of adjustment are used for product setting, adjustment and blanking. LEDs indicate the sensor status, alignment, optics condition and faults. Fine Teach allows smallest object detection. Gross Teach avoids potential stability and repeatability of performance problems and is less sensitive to environmental conditions. The blanking function (CX2 series) allows the height of the active optic window to be adapted to the application by eliminating ("blanking") pairs of beams and can be useful in specific situations.
The Emitter emits near-infrared light at non-dangerous levels. The device is classified as RG0 (exempt) according to IEC 62471: 2008-09.
MD area sensors start at $200.00, have a 3-year warranty and are cULus, CE, RoHS rated. Area sensors are not protective devices and should not be used to guarantee personnel safety.
Learn more by visiting: www.automationdirect.com/area-sensors
About AutomationDirect:
In business since 1994, AutomationDirect is a distributor offering thousands of industrial automation products for electrical control systems, including PLCs, operator interfaces, AC drives, motors, stepper systems, sensors, motor controls, enclosures and more. Their prices are typically well below the list price of more traditional automation companies because of their business model and focus on efficiency and the majority of their products are stocked for same-day shipping. Plus, get free two-day delivery on orders over $49; some limitations apply. For more information, contact them at 800-633-0405 or visit www.automationdirect.com.