Material Handling Robots offer 700 or 900 mm reach.
Press Release Summary: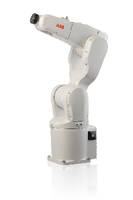 Designed with no offset in axis two, IRB 1200 Series delivers long stroke that allows robot to be placed close to work piece and still be functional. Standard variants include 700 mm reach model with payload up to 7 kg, and 900 mm model with payload up to 5 kg. Both can be mounted at any angle and come with IP 40 protection as standard, with IP 67 protection optional. With Ethernet port, 4 air ducts, and 10 customer signals, robots can be integrated with other equipment.
---
Original Press Release:

The New ABB IRB 1200 Robot is Ideal for Material Handling, Machine Tending and Small Parts Assembly Applications



Have you ever wanted to make your machines 15% smaller and 10% faster?  ABB's new IRB 1200 allows you to do exactly that.



• New design: Loaded with features which allow for 15% smaller cells that have 10% shorter cycle times

• Compact: Large useable working area in a small package leads to shorter cycles and more compact machines

• Easy to integrate: Four air ducts, ten customer signals and Ethernet, all routed inside the robot from flange to foot

• Flexible family: Two variants (700 mm reach/7 kg payload; 900 mm reach/5kg payload); mountable at any angle

• Durable: IP 40 protection as standard with IP 67 protection as an option; ISO 4 version in next release



AUBURN HILLS, Mich. – ABB Robotics has introduced the IRB 1200, an entirely new family of small robots that features a compact footprint and a large work envelope, providing flexibility, ease of use and short cycle times to a wide range of material handling, machine tending and small parts assembly applications. 



The IRB 1200 is innovatively designed with no offset in axis two, delivering a longer stroke that allows the robot to be placed very close to the work piece and still be functional. Combined with other signature features, the longer stroke enables up to 15% smaller work cells and 10% shorter cycle times than comparable robots. The footprint is most compact when the smaller, lightweight robot is invert mounted on a ceiling or wall, maximizing the efficient use of space in the cell.



The new robot family is available in two standard variants; a 700 mm reach model with a payload of up to 7 kg, and a longer reach 900 mm model with a payload up to 5 kg.  Both variants can be mounted at any angle and come with IP 40 protection as standard, with IP 67 protection available as an option. The variants share the same parts making them especially cost effective to produce, operate and maintain. An ISO 4 version will be available in the near future.



"The new IRB 1200 is incredibly compact, allowing for maximum useable working range and operation as close to the work piece as possible. It is ideal for situations that require a compact package without sacrificing working range or functionality," said Phil Crowther, small robots product manager, ABB Robotics.



The sleek, smooth surfaces and enclosed design feature all wiring and air routed through the inside of the robot, from very close to the wrist flange all the way to the foot. This further enhances its compactness, and makes the new robot easy to maintain and clean, with no risk of dirt or dust collecting on the cables.



Both electrical and air connections can be made to the robot via side ports or an underline option, and with an Ethernet port, four air ducts and ten customer signals, it is easy to integrate the IRB 1200 with other equipment.



The IRB 1200 robot family is targeted for the following markets:

• Material Handling: large work envelope and shortest turning radius in its class; expanded markets with food grade and ISO 4 cleanroom options to be introduced in 2015.

• CNC Machine Tending: optional IP 67 protection; invert mounting eliminates interference from the robot foot, allowing for more compact cell designs and easier integration with CNC machinery.

• Polishing and Dispensing: best in class path accuracy and rigid structures suitable for demanding process applications.

• Small Parts Assembly: excellent position accuracy and compact footprint with underline connector option; integrated vision available with IRC5 single cabinet controller.



About ABB

ABB (www.abb.com)  is a leader in power and automation technologies that enable utility and industry customers to improve their performance while lowering environmental impact. The ABB Group of companies operates in around 100 countries and employs about 150,000 people.



About ABB Robotics

ABB Robotics (www.abb.com/robotics) is a leading supplier of industrial robots - also providing

robot software, peripheral equipment, modular manufacturing cells and service for tasks such as welding, handling, assembly, painting and finishing, picking, packing, palletizing and machine tending. Key markets include automotive, plastics, metal fabrication, foundry, electronics, machine tools, pharmaceutical and food and beverage industries. A strong solutions focus helps manufacturers improve productivity, product quality and worker safety. ABB has installed more than 200,000 robots worldwide.



Alex Miller 

262- 236-3710

alex.x.miller@us.abb.com

Related