Masonry and Stucco Primer has alkali-resistant formulation.
Press Release Summary: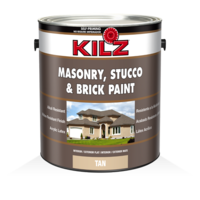 Fast drying KILZ® Masonry and Stucco primer can be used on recently poured masonry and stucco surfaces. It penetrates and binds light surface chalk, creating surface that is ready to be top coated, and is suited for use with interior and exterior above-grade masonry, stucco, plasters, and poured and precast concrete. Available in 5 gal containers, clear primer is 100% styrene acrylic, is alkali-resistant up to 13.0 pH, and lowers risk of lime burn, discoloration, and efflorescence.
---
Original Press Release:
KILZ® Brand Introduces Fast Drying Masonry and Stucco Primer
Interior/Exterior Primer Lets Pros Prime Faster without Compromising Performance ST. LOUIS - Masterchem Industries, maker of KILZ® brand products, announces the launch of KILZ Masonry and Stucco primer, a high-performance product that allows priming and painting of masonry surfaces just days after application. KILZ Masonry and Stucco primer is an alkali resistant primer that can be used on recently poured masonry and stucco surfaces. This new primer from the KILZ brand enables painting professionals to prime and paint masonry and stucco surfaces just seven days after constructing, whereas non-alkali resistant primers require at least 30 days before application to masonry surfaces. "KILZ Masonry and Stucco primer will put painting pros ahead of the curve and able to meet project deadlines more efficiently," said Jason Long, KILZ brand manager for Masterchem Industries. "We've talked with professional painters and contractors to guarantee their voices are heard when it comes to KILZ products and are excited to offer them a product they want." Available in 5-gallon containers, KILZ Masonry and Stucco primer is perfect for painters who need to prime and paint a newly constructed masonry building faster while lowering the risk of lime burn, discoloration and efflorescence. The primer penetrates and binds light surface chalk, creating a surface that is ready to be top coated. KILZ Masonry and Stucco primer is specifically designed and formulated for use on properly prepared interior and exterior above-grade masonry, stucco, plasters and poured and precast concrete. Product details include: - 100% Styrene Acrylic
- Adheres to a variety of substrates
- Alkali resistance up to 13.0 pH
- Available in 5-gallon containers
- Clear in color, dries to a matte sheen
- Easy Clean-up with soap and water
- Efflorescence resistant
- Engineered to bond to light chalky surfaces
- Interior/Exterior multipurpose formula About Masterchem Industries, LLC Masterchem Industries, founded in 1954 in St. Louis, MO., is committed to developing, manufacturing and marketing the highest quality and most innovative coatings available to consumers and professional contractors. The company specializes in architectural paints and primers as well as waterproofers, concrete care products, applicators and stains. Masterchem Industries' brands include KILZ®, KILZ 2®, KILZ® Casual Colors®, HAMMERITE®, Rust Cap® and others. SOURCE
Masterchem Industries, LLC CONTACT: Christiana Basso, +1-312-616-2471, cbasso@c-k.com, for Masterchem Industries, LLC Web Site: www.kilz.com
More from Electrical Equipment & Systems