Marine Maps facilitate navigation for boaters.
Press Release Summary: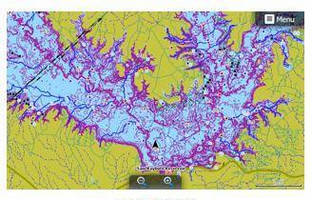 Insight v14 products consist of Lake Insight™ HD, Lake Insight PRO, Nautic Insight™ HD East/West, and Nautic Insight PRO. Stored on microSD card with full-size SD-card adapter and supplied in secure, DVD-style retail package, charts offer coastal and inland mapping products for anglers, sailors, and cruisers. Chartcards include lakes with points-of-interest, zoom levels, and 3D perspective view. Nautic Insight HD displays shaded-relief cartography in HD, while Nautic Insight PRO does not.
---
Original Press Release:

New Insight(TM) Marine Maps Now Shipping



Updated Inland and Coastal Cartography Enhances Coverage with High-Detail Contours for Lowrance, Simrad and B&G Chartplotters



Egersund, Norway — Navico, parent company to Lowrance, Simrad and B&G marine electronics, announced today that its new Lake Insight™ and Nautic Insight™ v14 chartcards are now shipping. The new Insight v14 mapping lineup consists of Lake Insight HD, Lake Insight PRO, Nautic Insight HD East/West and Nautic Insight PRO. Stored on a microSD card with full-size SD-card adapter and featuring a more secure DVD-style retail package, the Insight v14 charts combine cutting-edge features and high-quality data for the most cost-effective coastal and inland mapping products available for anglers, sailors and cruisers.



Lake Insight PRO and HD v14 chartcards add more than 700 new lakes with standard-definition contours and more than 100 new lakes with high-definition (1- to 3-foot) contours — bringing the total number of lakes available to 9,000, and more than 750 with high-definition contours — all enhanced with more than 200,000 Fishing Hot Spots® points-of-interest. Both Lake and Nautic Insight HD v14 maps offer 20 additional zoom levels than the standard Insight mapping data that is included with Lowrance, Simrad and B&G chartplotters. The new Nautic Insight PRO and HD also provide coverage for Alaska and the Caribbean, a new 3D perspective view, improved bathymetric data and are enhanced with over 120,000 Fishing Hot Spots points of interest and more than 10,000 MapTech® marina points-of-interest.



"Insight v14 cartography provides updated coverage, enhanced mapping performance and accuracy for all on-the-water adventures," said Leif Ottosson, president & CEO, Navico. "The perfect complement to our range of best-in-class chartplotters, the enhanced Lake Insight and Nautic Insight v14 continue to provide the best detail available and offer economical mapping options without sacrificing critical navigation performance features."



Lake Insight HD 2014

The new Lake Insight HD v14 chartcard features lakes in Illinois, Iowa, Missouri, Michigan, Minnesota, North Dakota, Oklahoma, South Dakota, Texas and Wisconsin — plus Rainy Lake and Lake of the Woods — with high-resolution, 1- to 3-foot contours, as well as high-definition shaded relief overlay with 20 more zoom levels beyond built-in Insight mapping. These new inland lake maps let anglers locate fish-holding areas at a glance. Compatible with: Lowrance HDS, HDS Gen2, HDS Gen2 Touch, Elite-HDI and Endura; Simrad NS; and B&G Zeus and Zeus Touch displays.



Lake Insight Pro 2014

The more affordable Lake Insight PRO chartcard features the same coverage —100,000+ total named bodies of water with shoreline detail — as Lake Insight HD without the high-definition shaded relief. Compatible with: Lowrance HDS, Mark, Elite and Elite-HDI; Simrad NS; and B&G Zeus displays.



Nautic Insight HD 2014

Nautic Insight HD v14 also displays shaded-relief cartography for an easier-to-understand view of submerged topography. Available on two cards: EAST provides coastal coverage from Maine through Texas plus the Caribbean, and WEST covers coastal California, Oregon, Washington, Hawaii and Alaska. Both Insight HD card regions feature Lake Insight HD inland detail within 100 miles of the coastline. Compatible with: Lowrance HDS Gen2, Gen2 Touch and Elite HDI; Simrad NS; and B&G Zeus displays.



Nautic Insight PRO 2014

The new Nautic Insight PRO 2014 provides a more affordable mapping solution with the same navigation features as Nautic Insight HD v14 — but without high-definition shaded relief overlay. The chartcard features East, West, Hawaii, Alaska and the Caribbean coverage all on a single card. Compatible with: Lowrance Mark, Elite, Elite HDI, HDS, HDS Gen2 and HDS Gen2 Touch; Simrad NS; and B&G Zeus.



Insight HD and Insight PRO 2014 chartcards are now available from authorized dealers and distributors throughout the United States and Canada. The suggested retail price for Nautic Insight HD and Lake Insight HD is US $149. Nautic Insight PRO and Lake Insight PRO are available for US $99. For more information on Lowrance, Insight 2014 cartography, or compatible Lowrance, Simrad or B&G branded chartplotters, please visit www.lowrance.com, www.simrad-yachting.com and www.bandg.com.



For imagery and other editorial requests, please contact:

Andrew Golden

Rushton Gregory Communications

617-413-6521



[email protected]





About Lowrance, Simrad Yachting and B&G: The Lowrance, Simrad Yachting and B&G brands are wholly owned by Navico, Inc. A privately held, international corporation, Navico is currently the world's largest marine electronics company, and is the parent company to leading marine electronics brands: Lowrance, Simrad Yachting and B&G. Navico has approximately 1,500 employees globally and distribution in more than 100 countries worldwide. www.navico.com