Marine Hinges keep hatch doors closed.
Press Release Summary: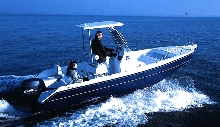 Positioning-Advantage Hinge and Door-Positioning Hinge hold doors open and closed at pre-set angles without secondary mechanical supports, such as door stay or gas spring. Detent mechanisms allow hinge to mechanically stop at certain angles, thus holding door open or closed depending on how detent is set. Constructed from acetal and stainless steel, hinges meet corrosion-resistance requirements of Marine industry.
---
Original Press Release:
Use a Hinge to Keep Your Hatch Doors Closed
When the sea picks up, most boats are at the mercy of the elements (remember A Perfect Storm?), rolling and pitching on the swells. Hatch doors start vibrating and slamming. Every panel is moving, rattling, and potentially damaging the boat. It's just one of the hazards of being out on a less than calm sea, right? Not anymore. Today, boatbuilders have numerous options to combat the problem of hatch doors and panels springing open during rough sailing. Instead of looking to the latch to solve the problem, boatbuilders are considering the hinge. Specifically, door positioning hinges from Southco, Concordville, PA, a leading global provider of engineered access solutions. Door-positioning hinges hold doors open and closed at pre-set angles without secondary mechanical supports (such as a door stay, or gas spring). Detent mechanisms built into the hinges allow the hinge to mechanically "stop" at certain angles, thus holding the door open or closed depending on how the detent is set. Two Southco hinges, the Positioning-Advantage Hinge, and the Door-Positioning Hinge, offer numerous hold-open angles, including: 80°, 115°, 120°, 150° and 170° depending on the model, and both hinges can be further opened to 180°. They also offer a small negative angle detent option to help snap the doors into place and hold them firmly closed. Options for the positioning torque range from 0.7N.m to 1.7N.m, which determine how much force is necessary to overcome the detent (or how strong a wave would be needed to slam the hatch door open or closed). Both hinges are also available in a free-swinging option. Another feature of these hinges are secure, snap-on covers, which conceal all installation hardware. The covers give the hinges a polished finish and a sleek, modern design, helping to compliment the other access hardware on the boat. By concealing the hardware, the covers offer a measure of safety to the end-user. Constructed from acetal and stainless steel, these hinges meet the stringent corrosion-resistance requirements of the Marine industry. They are extremely durable, and help reduce noise and vibration. They can also be customized to meet your colour specifications, door positioning angles or torque requirements. When it comes to Marine hardware, partner with a company who can help you set industry standards, to help ensure smooth sailing. Hinges in action Promarine, the boat builder unit of the French composites company Ouest composites, has put Southco door-positioning hinges to the test. Their Belone boat range offers an optional fishing rod holder on each side of the deck, which supports two fishing rods. Due to limited space on the deck, it is essential that these holders be neatly folded away when not in use, to prevent accidents. Promarine were looking for a hinge solution with a sufficient positioning torque to hold the rod support in an 80° open position, and that could also secure the holder firmly in place when folded away. Because the rod holders are located outside on the boat deck, the solution needed to be durable enough to withstand environmental contaminants. Southco's Door-Positioning Hinge met all of these requirements. "The hinge from Southco was the only one on the market to answer our needs in term of positioning angle and torque" says Mr. Coursol, Engineering Manager at Ouest Composites. Southco is a leading global provider of engineered access solutions, including latches, captive fasteners, hinges, handles and other accessories for applications in the Marine, Networking, Telecommunications, Computer, Automotive, Mass Transit, Off-highway/Construction, RV/Caravan, Industrial Machinery and HVACR industries. Southco is committed to providing our customers with outstanding quality and overall satisfaction. For more information contact Southco via e-mail at info@southco.com, or visit their website at www.southco.com. Southco, 210 N. Brinton Lake Rd., Concordville, PA 19331 USA. Tel: (1) 610.459.4000 Fax: (1) 610.459.4012 Katrin Naefe
Wyatt International
Office: +44 (0) 121 454 8181
Fax: +44 (0) 121 455 9785
Email: knaefe@wyatt-inter.co.uk
Web Site: http://www.wyattinternational.com/