Manual Pallet System enables quick changeover of parts.
Press Release Summary: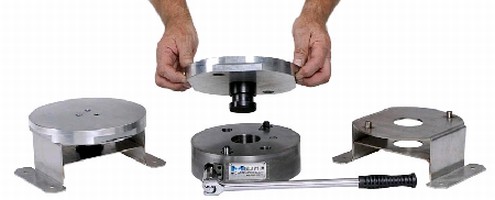 Available in 8.5, 10, and 12 in. pallet sizes, Model M-RPC minimizes spindle downtime at lathes and mills, as well as 4th and 5th axis rotary tables. It incorporates mechanical clamping system that does not require air, hydraulic, or power lines. System offers clamping force of 6,500 lb and repeatability accuracy of ±.0001 in. Overall height is 3.187 in. in clamped position. To maximize safety, clamp/unclamp handle cannot be removed unless pallet is in locked position.
---
Original Press Release:
Manual 3, 4, and 5- Axis Pallet System
Innovative Quick Change System helps maximize machine through-put! MIDACO Corporation has introduced a new series of Manual Pallet Systems to minimize spindle downtime at lathes, and mills, as well as, 4th and 5th axis rotary tables. It is available in 3 pallet sizes, 8.5" (216 mm) , 10" (254 mm) and 12" (305 mm) diameter, and the system utilizes a common "receiver" that holds any of these pallets. These M-RPC pallet system improves productivity by allowing quick change over of parts or fixtures at a variety of applications, including virtually all types 4th and 5th axis rotary tables, milling machines, lathes, EDM and other machines. The M-RPC Pallet System incorporates a unique patented mechanical clamping system that does not require any air, hydraulic or power lines and has a clamping force of 6,500 lbs (2925 kg) and boasts repeatability accuracy of +/- .0001" (+/- .0025 mm). It's overall height is only 3.187" (81 mm) in the clamped position. To maximize safety, the clamp/unclamp handle cannot be removed unless the pallet is in the locked position. Low cost additional pallets allow dedicated fixturing for repeat jobs to virtually eliminate set-up down time. MIDACOs full line of pallet changers and machine tool accessories are USA made and are thoroughly tested to provide years of reliable service. Visit new Payback Calculator at www.midaco-corp.com or contact MIDACO at 847-593-8420 fax 847-593-8451