Managed Switches deliver network-edge level performance.
Press Release Summary: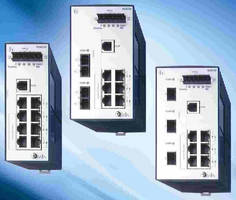 Available in 8 or 9 port versions (10/100 BASE-TX, 100 BASE-FX), Hirschmann(TM) RSB20 Series is comprised of 16 models further distinguished by factory settings for EtherNet/IP and fiber port solution (MM, SM, and SFP) variety. Fanless products operate from 0 to +60°C or -40 to +70°C and feature redundant 12/24 Vdc power inputs as well as management and redundancy modes. Also, plug-and-play features accelerate commissioning without impeding switch/network diagnostics and performance.
---
Original Press Release:

Belden Releases New Hirschmann(TM) RSB Series of Basic Managed Switches



RICHMOND, IN - Belden (NYSE: BDC), a world leader in the development of signal transmission products for the industrial, enterprise, building management, broadcast, and security markets, introduces the new Hirschmann(TM) RSB Series of basic managed switches with the optimal price/performance ratio.

The new Hirschmann(TM) RSB20 series of managed switches consists of 16 models that are distinguished by the number and type of ports offered, factory settings for EtherNet/IP and specific operating temperature ranges. This provides an economically attractive entry into the segment of managed switches, where customers only pay for their exact equipment (feature and function) needs. The RSB20 portfolio permits customized, hardened and reliable communications solutions without compromising quality.

This series of basic managed switches are ideally suited for OEM and network-edge level managed performance. Plug & Play features allow for quick commissioning without sacrificing switch or network diagnostics and performance.

Product Features

8 and 9 port versions (10/100 BASE-TX, 100 BASE-FX)

Variety of fiber port solutions (MM, SM and SFP)

Available as Plug & Play for EtherNet/IP

Fanless operational Temperature ranges from 0 to +60 °C or -40 to +70 °C

Redundant 12/24VDC power inputs

Broad management and redundancy modes

Various configuration and diagnostic functionality - standard

Industrial standards: cUL508 and cUL1604 Class 1 Div. 2 and NEMA TS 2

Models/Types

Product Designation   Type          Order Number

RSB20-0800T1T1SAAB   8TX           942 014 001

RSB20-0800M2M2SAAB   6TX/2FX MM       942 014 002

RSB20-0800S2S2SAAB   6TX/2FX SM       942 014 003

RSB20-0900ZZZ6SAAB   6TX/3SFP        942 014 004

RSB20-0900M2TTSAAB   8TX/1FX MM       942 014 005

RSB20-0900S2TTSAAB   8TX/1FX SM       942 014 006

RSB20-0900MMM2SAAB   6TX/3FX MM       942 014 007

RSB20-0900VVM2SAAB   6TX/2FX SM/1 FX MM   942 014 008

RSB20-0800T1T1TAAB   8TX EEC         942 014 009

RSB20-0800M2M2TAAB   6TX/2FX MM EEC     942 014 010

RSB20-0800S2S2STAB   6TX/2FX SM EEC     942 014 011


Product Designation   Type          Order Number

RSB20-0900ZZZ6TAAB   6TX/3SFP EEC      942 014 012

RSB20-0900M2TTAAB    8TX/1FX MM EEC     942 014 013

RSB20-0900S2TTAAB    8TX/1FX SM EEC     942 014 014

RSB20-0900MMM2TAAB   6TX/3FX MM EEC     942 014 015

RSB20-0900VVM2TAAB   6TX/2FX SM/1 FX MM EEC 942 014 016

About Belden
Belden is a customer focused company. We ensure that our customers' communications infrastructure issues are resolved and that they benefit from the best signal transmission performance for their investment. We deliver leading-edge copper and fiber cabling/connectivity systems, wireless technologies, and active switch devices. We employ customer-centric go-to-market strategies and we implement and retain world class manufacturing processes. Our partners span the globe, helping our customers design, install, operate and maintain their communications applications. And our experience is vast, including expertise in Enterprise, Industrial, Infrastructure, Transportation, Professional and Enterprise Audio and Video, and Government applications. To obtain additional information contact Investor Relations at 314-854-8054, or visit our website at www.belden.com

For more information on the Hirschmann(TM) RSB series of basic managed switches request New Product Bulletin #309. Or, contact Hirschmann, A BELDEN BRAND, 1540 Orchard Drive, Chambersburg, PA 17201, 1.719.217.2299, Fax: 719.217.2279. Website: www.hirschmann-usa.com.

For further information contact:
Sven Burkard
Product Manager
1.717.217.2203
Sven.Burkard@belden.com

Chris Long
Marketing Communications
1.804.516.9787
Chris.Long@belden.com

Related