Major Petrochemical Company Uses Flexible Welding Enclosure®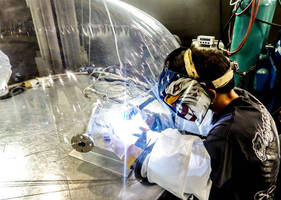 During the construction of a jetty, for the import of liquid natural gas (LNG) in Ecuador, Bechtel, the largest construction and civil engineering company in the USA, had a number of small stainless steel socket welds to complete.



In the climate conditions there and with the small size of the welds, it was difficult to assure a good all round weld purge to avoid oxidation and the attendant metallurgical defects that might follow.



The solution was to purchase Flexible Welding Enclosure® from Huntingdon Fusion Techniques HFT®, World Leading Weld Purging Experts.



Ron Sewell, Chairman for Huntingdon Fusion Techniques HFT® said: "With LNG pipework handling cryogenic gas at such low temperature, the propensity for cracking of welds is quite prominent and with socket welds already being a crack propagator if not set up correctly, it was wise to ensure that the welds were purged correctly.



There have been considerable advances in enclosure development since the concept was introduced over two decades ago. Our Flexible Welding Chambers are available off the shelf in diameters of 900, 1,200, 1,500 and 1,800 mm ø and can be shipped all over the world in just a few days from order."



Huntingdon Fusion Techniques HFT® has spearheaded a drive to design systems specifically for the welding industry. The company has been at the forefront in developing these enclosures for many years and has exploited the opportunities offered by advanced engineering polymers.



These innovative products offered significant attractions over both vacuum and glove box alternatives; a significant reduction in cost, very small floor footprint and availability of a range of sizes up to 27 cu m. The HFT® Flexible Welding Enclosure® has rapidly become the preferred alternative enclosure globally.



A combination of translucent material and optically clear sheet is used depending on the viewing requirements of the customer. Ultra violet stabilized engineering polymers are used throughout during manufacture. Material thickness is nominally 0.5 mm (480 microns).



Large access zips are fitted and additional entry points can be provided for operators' gloves and a service panel incorporates access ports for welding torches and for electrical leads and cooling water supplies. A purge gas entry port and an exhaust valve to vent displaced gas to atmosphere are incorporated into each enclosure.



If necessary, repairs can be carried out by the user on site and a kit is supplied for this purpose.



Huntingdon Fusion Techniques HFT® have a Worldwide Exclusive Distributor network, which can be found at www.huntingdonfusion.com.



For further information, please contact:



Michaela Reay, Marketing Associate

Huntingdon Fusion Techniques HFT®

+44 (0) 1554 836836

Press: michaelareay@huntingdonfusion.com

Sales: hft@huntingdonfusion.com

www.huntingdonfusion.com



Huntingdon Fusion Techniques HFT® are Weld Purging Innovators, Designers and Manufacturers with offices located globally.



Huntingdon Fusion Techniques HFT® invented the 'Weld Purge Monitor®' in 1975 and own all international intellectual property rights and registered trademarks.



Weld purging is the act of removing, from the vicinity of the joint, oxygen, water vapour and any other gases or vapours that might be harmful to a welding joint. Such gases may combine with the metal to form undesirable compounds that may reduce corrosion resistance or may be instrumental in creating cracks or other structural defects in metals.

More from Electrical Equipment & Systems