Mail Order Fulfillment Bagger improves efficiency, throughput.
Press Release Summary: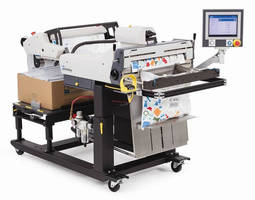 Ergonomically designed and inherently safe, Autobag® 850S™ runs mail bags up to 22 in. wide. Integrated bag opening technology creates pass-through up to 11 x 11 in., and loading area is wide open for accessibility. For safety, pressure sensors instantly pause closing and sealing process if anything touches bag loading mechanism. Other features include AutoTouch™ control screen, thermal transfer imprinter, warehouse management system integration, and modular bag storage shelf.
---
Original Press Release:

Automated Packaging Systems Introduces Extra Wide Mail Order Fulfillment Bag Packaging System



STREETSBORO, OH – Automated Packaging Systems, the world leader in high-reliability bag packaging systems, has introduced its newest and most advanced bag packaging system – the Autobag® 850S™ Mail Order Fulfillment Bagger. The Autobag 850S combines state-of-the-art engineering and superior ergonomics to create a mail order fulfillment system with a small footprint that is easy to use and inherently safe.



The Autobag 850S runs mail bags up to 22 inches wide – two inches wider than any other fulfillment bagger on the market today. Innovative bag opening technology grabs and securely grips the bag in load-ready position, creating a pass-through up to 11 in. x 11 in., making it ideal for bulky or multi-item orders. This arrangement also enables the use of a smaller, more completely filled bag to reduce material costs.



Gone are the bulky guards and awkward safety switches that are part of traditional packaging machines, replaced by a wide open loading area with pressure sensors that instantly pause the closing and sealing process if anything touches the bag loading mechanism. This unobstructed access improves productivity for faster operator throughput and more comfortable working conditions. An AutoTouch™ control screen provides quick access to job setup parameters, on-board diagnostics, data retrieval, performance monitoring, and a help system with operator tutorials.



"The ergonomic design and engineering technology of this new system will revolutionize how bag packaging systems are used to improve productivity and accuracy of mail order fulfillment operations," says Chris Rempe, Director of Product Management. "The entire system has been designed to improve operator efficiencies with several built-in functions that increase total system throughput."



A compact thermal transfer imprinter is positioned directly over the next bag to be loaded, applying shipping labels, graphics, barcodes and text directly on the bag, eliminating the cost of printing and affixing separate shipping labels. The Autobag 850S fully integrates with warehouse management systems for fast and accurate mail order fulfillment packing and shipping.



Bag size changeovers are easily accomplished in less than five minutes with simplified threading and a new tension control system that automatically centers and monitors the film throughout the bagging process. A modular bag storage shelf built into the bagger conveniently supports genuine Autobag pre-opened bag-in-box materials.



Mail order fulfillment and shipping applications that can benefit from this next generation bag packaging technology include apparel, sporting goods, shoes, fashion accessories, automotive parts, hardware and plumbing accessories, nutraceuticals, pharmaceuticals, and a wide range of internet-based products in medium to large volumes.



About Automated Packaging Systems

Automated Packaging Systems has been designing and manufacturing original Autobag®, AirPouch® and SidePouch® systems and products for over 50 years. With more than 30,000 packaging systems in operation and a worldwide service organization, Automated Packaging Systems has the experience and support to deliver the ultimate in customer satisfaction. Automated Packaging Systems offers a complete line of baggers, void-fill and protective packaging systems, thermal transfer imprinters, counters, scales, and specialty packaging materials. Complete information is available at the company's website.



Contacts: 

Lynne Greenfeather

Automated Packaging Systems

330-342-2493

lynne.greenfeather@autobag.com



Jeff Kenyon

Visia Marketing

440-525-9010

jkenyon@visiamarketing.com



Reader Inquiries: 330-342-2000

www.autobag.com

More from Electrical Equipment & Systems