Magnetic Whiteboard Panels feature specially formed edges.
Press Release Summary: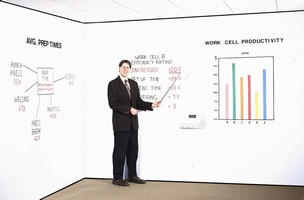 WhiteWall® Magnetic Whiteboard MagnaLux® steel Wall Panels are designed with seamless borders to enable presenters to display information on one borderless whiteboard surface. Panels are constructed of glare-free steel in plain white, and with white or grey background grids. Custom printed backgrounds, such as full wall maps, are also available. Boards come in 47 in. panels up to 10 ft long and can be hung vertically or horizontally with standard wall panel adhesives.
---
Original Press Release:

Magnatag's Whitewall Magnetic Whiteboard Room Panels Allow for Wall-To-Wall Innovation and Collaboration



Macedon, NY - July 23, 2007 - Magnatag easily converts an entire wall - or an entire room - into a graphic display surface for writing, posting and projecting images with its WhiteWall® Magnetic Whiteboard MagnaLux® steel Wall Panels.

The glare-free and virtually seamless wall-to-wall panels are ideal for "chalk-talks," brainstorming sessions, displaying charts and graphs, projecting presentations and tracking critical information. The panels' unique smoothed formed edges fit together to form a thin, virtually invisible seam, rather than bumpy moldings or large gaps and creases.

WhiteWall steel panels are available in plain white or printed with "ghost white" grids, writing guidelines or grey background grids for neat writing and easy-to-read notes and presentations. They can also be ordered with custom printing, including full wall maps.

"Whether it's last quarter's sales, this month's schedule, this week's presentation, or this meeting's brainstorming notes, every office needs versatile and visible communications options,'' said Wally A. Krapf, founder and president of Magnatag Visible Systems. "The WhiteWall whiteboard panels literally allow for wall-to-wall creativity, and a way for every employee to see everything they need to know in one view."

The WhiteWall panels are among the most versatile products offered by Magnatag and have already found a host of unique uses:

-"We use it to keep track of all the initial dispatch resources in our region, such as helicopters, planes and personnel. We used to have this information scattered around on different boards in people's offices and it was hard to get the overall picture. Having it all on one wall is much better." - Operations coordinator, US Bureau of Land Management, Fire Dispatch Center, Lewiston, MT.

The WhiteWall Whiteboard Wall Panels can be mounted in either a horizontal or vertical position using standard wall panel adhesives. They are available in various sizes, in 47" wide panels up to 10 feet long". Pricing starts at $469 for a single board, though quantity pricing is available on these items. For more information visit http://www.magnatag.com/whitewall.

About Magnatag® Visible Systems

Celebrating its 40th Anniversary, Magnatag Visible Systems is a leading manufacturer and direct provider of industrial-quality magnetic printed whiteboards and organizational tools for displaying information in the workplace. Magnatag has designed, patented, manufactured and directly furnished visible information display kits and products from its plant in Macedon, NY, to industry, business, government, institutions and organizations. With over 2,300 different task-specific kits, they enable managers across all industries to visibly organize, plan, schedule, track, update and communicate ongoing workplace activities 24/7 to everyone involved.

Contact: Thomas J. McFeeley, Environics Communications for Magnatag. (203) 325-8772, x. 12

More from Computer Hardware & Peripherals