Machining Center performs sub-micron accuracy milling.
Press Release Summary: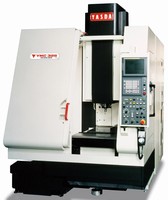 Featuring linear motor drives and hydrostatic guide ways for all axes, YMC325 Micro Center operates with optimal stiffness and straightness. Non-physical contact drives and guide ways, as well as high servo response drive, eliminate friction for long-term operation. While thermal distortion stabilizing system reduces thermal distortion, gas pressure balancer improves z-axis motion accuracy and stabilizes balancing. Included vision system has 600x magnification lens and CCD camera.
---
Original Press Release:

Yasda's New YMC325 Micro Center Offer Exceptionally Accurate and High Surface Quality Milling



Elk Grove Village, IL - (September 23, 2008) The new YMC325 Micro Center from Yasda Precision America Corporation mills with sub-micron machining accuracy and excellent surface quality.

Featuring linear motor drives and hydrostatic guide ways for all axes, the YMC325 operates with high stiffness and straightness. Non-physical contact drives and guide ways, as well as the high servo response drive, eliminate friction and ensure long-term operation.

To reduce thermal distortion, the Micro Center is equipped with a thermal distortion stabilizing system. A gas pressure balancer improves Z-axis motion accuracy and stabilizes balancing.

The YMC325 boasts a thermally symmetric and low gravity structure. Due to reduced vibration, high acceleration/deceleration motion and high dynamic response on axial motion are achieved. A low friction cover further improves axial motion and feed stability. The highly rigid column of the YMC325 minimizes vibration on the Z-axis motion, while a three-point support bed provides consistent accuracy over time. Peripheral devices of the YMC325 are separated and isolated from vibration and heat.

For sub-micron accuracy tool measurement, the YMC325 includes a state-of-the-art DYNA VISION System. Featuring a 600X magnification lens and high pixel CCD camera, this system detects tools using 250,000 sensors at 0.7 µm/pixel. The high-speed shutter captures the rotating tool as a still image at up to 1500m/min surface speeds.

YMC325 travels are 300(X) mm x 250(Y) mm x 250(Z) mm, table size is 400 mm x 300 mm and table loading capacity is 50 kg. Spindle speeds reach 40,000 rpm (standard) / 60,000 rpm (optional); rapid travel 20,000 mm/min, feed rate 10,000 mm/min. (HAS-3); and 16 tools ATC. A 4th or 5th axis rotary table is available as an option.

To learn more, contact Yasda Precision America Corporation, 62 North Lively Boulevard, Elk Grove Village, IL 60007, Phone: (847) 439-0201, Fax: (847) 439-0260, e-mail: yasda1@yasda.com or visit www.yasda.com

YASDA Precision America Corp.
62 North Lively Boulevard
Elk Grove Village, IL 60007
Phone: (847) 439-0201
Fax: (847) 439-0260
Contact: Hutch Hachiuma
Email: yasda1@yasda.com
www.yasda.com

Goda Advertising
1603 Colonial Parkway
Inverness, IL 60067
Phone: (847) 776-9900 ext, 120
Fax: (847) 776-9901
Contact: Jill Jozwik
Email: jjozwik@goda.com

More from Electronic Components & Devices