Machine Screw Insulators protect transistors and discretes.
Press Release Summary: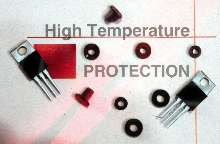 Made from UL-rated, 40% glass-filled Polyphenylene Sulfide, insulators come in shoulder design, flush low-profile, and dual-sided, low-profile configurations with stand-offs for added ventilation of mounted devices. Accommodating screws up to 0.125 in. dia, units provide grounding protection in applications up to 260°C and are chemically inert with oxygen rating index over 45%. Applications include power supplies, inverters, transistors, and discretes.
---
Original Press Release:

Bivar Introduces New High Temperature Machine Screw Insulators for Protection of Transistors and Discretes


Irvine, CA. February 5, 2004 - Designed to protect popular transistors and discretes, Bivar, Inc. has announced immediate availability of three (3) different styles of shoulder insulators made from a U.L. rated 40% glass filled Polyphenylene Sulfide (PPS). These insulators provide grounding protection for the industry's most popular power transistors while offering added savings in assembly and prevention of needed repair or replacement of devices when subjected to high temperatures.

Styles include a traditional shoulder design, flush low-profile and dual-sided low-profile configurations with standoffs for added ventilation of mounted devices. Low in unit cost, these insulators provide added protection in rated uses up to 260°C maximum recommended service temperature, and are chemically inert (no known solvents under 200°C), with an Oxygen rating index over 45%. Custom configurations and application specific designs are welcome. Please contact Bivar Engineering for design or applications assistance.

These are ideal for uses in such applications as power supplies, inverters or other conventional uses of transistors or discretes where sensitivity to assembly or operating temperatures are typically higher than 105°C.

These high temperature machine screw insulators can accommodate screws up to 0.125 inches dia. (3.2mm). Bivar also offers a complete selection of standard service temperature shoulder washers that are ideal for use as machine screw insulators, available in sixty-two (62) different styles and sizes, made from U.L. rated 94V-2 Nylon material with oxygen rating over 28%. These insulating devices offer a rigid, uniformly molded chemically inert barrier preventing chassis to component shorting while boasting recommended maximum service temperature of 125°C. They function ideally under a recommended torque of 5 to 6-inch pounds.

Anthony Vilgiate, Vice President, Strategic Business Development stated, "These devices are characteristic of Bivar's traditional problem-solving product development for our customers, offering significant time and cost savings."

The new High Temperature Shoulder Insulators are available from stock through a worldwide Network of Authorized Bivar Distributors. Unit pricing is from $37.10/100 each in 25K quantities. For more information, contact Bivar, Inc. at 1-800-772-2377, or visit www.bivar.com.

About Bivar, Inc.
Bivar has established an industry-leading position in the electronic PCB assembly and hardware industry, providing low-cost solutions for problems associated with the assembly and manufacturing process. Founded in 1965, Bivar has continually developed unique designs for the installation of PCB-mounted devices and the packaging of PCBs in enclosures and systems. Today, the company is an active Member in PICMG (PCI Industrial Computer Manufacturers Group), an international consortium of over 500 leading companies who collaboratively develop specifications and products that adapt to compact PCI technology. Bivar's Optoelectronics Division, BivarOpto(TM), features the world's largest selections of LED mounts and assemblies, and innovative LED devices, while the Bivar Enclosure and PCB Assembly Hardware Group provides an extensive
selection of permanent mounts and wash-away spacers, PCB packaging products and hardware for use in the manufacturing process. Bivar obtained IS09000 certification in 1998 supporting the company's commitment to high quality products and customer
service. For more information or to receive a catalog, contact Bivar, Inc., 4 Thomas, Irvine, CA 92618-2593; Tel: (949) 951-8808; Fax: (949) 951-3974; e-mail: Info@Bivar.com; Internet: www.bivar.com.

More from Fluid & Gas Flow Equipment