Machinable Sheet is suited for electronics test applications.
Press Release Summary: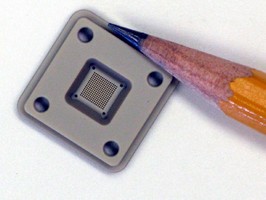 With flexural modulus in excess of 1,400,000 psi and moisture absorption of .10%, Semitron MDS 100 is suited for sockets for semiconductor test and package equipment and fixtures for electronics testing. Offered in thicknesses from .04-.236 in. in sheet sizes of 9.84 and 19.68 in. square, it features coefficient of linear thermal expansion of 1.1 x 10
-5
, and heat deflection, or softening temperature, of 210°C.
---
Original Press Release:

Quadrant EPP Announces New Advanced Material for Electronics Test Applications



Semitron® MDS 100 Combines Remarkable Strength and Stiffness with Extremely Low CLTE and Low Moisture Absorption

(Reading, PA - July 15, 2008) - Engineers and designers of equipment that require pre-cise, reliable tolerances will have more options for new or upgraded part designs with Quadrant's new Semitron® MDS 100 machining stock. Semitron MDS 100 is a strong, stiff platform for applications such as:

o Test sockets for semiconductor test and package equipment
o Fixtures for electronics testing
o Mounting points for precision diagnostic equipment
o Positioning platforms for miniature motion control device

With a Flexural Modulus (ASTM D790) in excess of 1,400,000 psi and extremely low moisture absorption (24 hr., ASTM D570) of .10%, Semitron MDS 100 delivers performance that solves engineering problems associated with uncontrolled application environments. Its low Coefficient of Linear Thermal Expansion (ASTM E831) of 1.1 x 10-5 also contributes to its remarkable stability. The Heat Deflection or softening temperature (ASTM D648) is 410° F (210° C) At SemiWest, the world's largest semiconductor manufacturing tradeshow Fred Sanford, Global Advanced Materials Business Line Manager commented "We're very pleased to deliver such a promising material to a market that has a clear need." Sanford also com-mented "Our Torlon® PAI machinable shapes are the industry standard for test sockets and many other electronic devices, and we anticipate this new Semitron MDS 100 material being a perfect complement".

Semitron MDS 100 sheet is available from stock in range of thicknesses from 1 mm to 6 mm (.04 to .236") in sheet sizes of 250 mm x 250 mm (9.84") and 500 mm x 500 mm (19.68"). Other thicknesses are possible.

About Quadrant EPP
Quadrant EPP is the world's largest manufacturer of machinable plastic materials. Quadrant's products range from UHMW polyethylene, nylon and acetal to ultra-high per-formance polymers that resist temperatures to over 800°F (425°C). The company's products are used for machined parts in food processing and packaging, semiconductor manufacturing, aerospace, electronics, chemical processing, life sciences, power gen-eration and diverse industrial equipment. Quadrant EPP's products are supported by a global team of application development and technical service engineers.

Full support in evaluating designs and machining of parts is available from Quadrant En-gineering Plastic Products' Technical Support Group. Learn more about Quadrant at www.quadrantplastics.com.


More from Packaging Products & Equipment