M39006/33 Capacitor meets MIL-PRF-39006/33 standards.
Press Release Summary: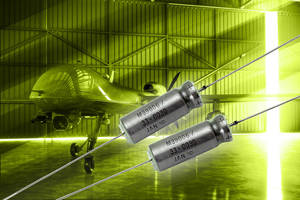 Available in axial T1, T2, T3, and T4 case sizes, M39006/33 Capacitor features ± 10 % and ± 20 % standard capacitance tolerance and 2750 mA ripple current. Offering 15 μF to 680 μF capacitance in 50 V to 100 V voltage range, unit comes with reverse voltage, vibration, and thermal shock resistance. Housed in tantalum case hermetically sealed, capacitor is operated in -55 °C to +85 °C temperature range and is suitable for avionics and aerospace systems.
---
Original Press Release:
Vishay Intertechnology Extends Capacitance Range of MIL-PRF-39006/33-Qualified Wet Tantalum Capacitor
Tantalum-Cased, Hermetically Sealed Device Offers Established Reliability for Avionics and Aerospace Systems
Vishay Intertechnology, Inc. (NYSE: VSH) today announced that it has expanded the capacitance range of its M39006/33 (Style CLR93) tantalum-cased, hermetically sealed wet tantalum capacitor. Offering established reliability for critical avionics and aerospace systems, the device is the industry's first such capacitor qualified to the MIL-PRF-39006/33 specification to offer capacitance from 15 μF to 680 μF over a wide voltage range from 50 V to 100 V.
The extended Vishay Sprague capacitor released today combines its high capacitance and established reliability with excellent reverse voltage, vibration, and thermal shock performance. Optimized for timing, filtering, energy hold-up, and pulse power applications in power supplies for space and avionics equipment, the device allows designers to incorporate fewer capacitors into these products to lower overall system costs.
Offered in the axial T1, T2, T3, and T4 case sizes, the M39006/33 features capacitance tolerance of ± 10 % and ± 20 % standard and maximum ripple current of 2750 mA. The device operates over a temperature range of -55 °C to +85 °C, to +125 °C with voltage derating.
Samples and production quantities of the extended M39006/33 capacitor are available now, with lead times of 10 weeks for large orders. Pricing for U.S. delivery only starts at $82 per piece.
Vishay Intertechnology, Inc., a Fortune 1000 Company listed on the NYSE (VSH), is one of the world's largest manufacturers of discrete semiconductors (diodes, MOSFETs, and infrared optoelectronics) and passive electronic components (resistors, inductors, and capacitors). These components are used in virtually all types of electronic devices and equipment, in the industrial, computing, automotive, consumer, telecommunications, military, aerospace, power supplies, and medical markets. Vishay's product innovations, successful acquisition strategy, and "one-stop shop" service have made it a global industry leader. Vishay can be found on the Internet at www.vishay.com.
Link to Datasheet: http://www.vishay.com/ppg?40190 (M39006/33)
Vishay Contact:
Paul Harrison
Senior MarCom Manager
Vishay Intertechnology, Inc.
Telephone: +49-9287-712808
Fax: +49-9287-712809
Email: paul.harrison@vishay.com
More from Communication Systems & Equipment