Lubrication System keeps machines running smoothly.
Press Release Summary: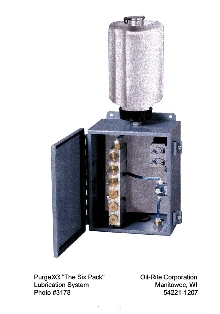 Six Pack system comes with bank of 6, 12, or 18 pumps that operate from air source regulated by solenoid valve. Timer controls On and Off times of delivery cycle. All components are wired and plumbed to backplate in NEMA 12 enclosure. Lube system has 1/2 gal clear reservoir that feeds system and allows visual confirmation of level. Applications include lubricants for cutting, punching and stamping machines, oven conveyors, and applying ink and adhesives.
---
Original Press Release:
The Six Pack "Ready to Go" Lubrication System

A NEW series of precision lubrication systems are now available through Oil-Rite Corporation. The Six Pack system provides simplicity and convenience in one easy to use package. It is truly "ready to go" and ready to use.

The Six Pack is ideally suited for use in many industries such as: Food, Printing, Chemical, Marine, Farm, Paper, Plastic, Petroleum and Mining, Food and Packaging Machinery, Heavy Equipment, Conveyors, Recreational and Textile.

This versatile system will find itself used in a multitude of applications. Some examples are: cutting and cooling lubricants, special lubricants for punching and stamping, special lubricants for oven conveyors, and applying ink and adhesives in production.

Quality engineering and manufacturing provide simplicity of operation and reliability over long periods of time. Precise volumetric delivery is achieved with PurgeX(R), a positive displacement design. Each injector operates independently, allowing for individual adjustment of flow to each lube point. Adjustment of liquid output ranges from 0 to .012 cubic inches per cycle. This precise delivery allows for efficient use of expensive fluids as well as virtually eliminates all excess waste allowed into the environment. Over 340+ MILLION CYCLES have been achieved without appreciable wear in our rugged pumps constructed of aluminum with brass and plated steel components. Multiple seal options are available to accommodate compatibility with a variety of fluids.

Each system is equipped with a bank of pumps that operate from an air source regulated by a solenoid valve. A solid state timer controls the "on" and "off" times of the delivery cycle. All components are wired and plumbed to a backplate that is enclosed in a hinged door Nema 12 enclosure protecting components from the environment. A rugged 1/2 gallon clear polycarbonate reservoir with a hinged lid mounted on top feeds the system and allows for visual confirmation of fluid level. Standard systems come with six, twelve, and eighteen pumps. Suitable for applications ranging from -15°F to 180°F and a variety of fluids makes this system a valuable solution to virtually all applications.

The dependability and precision of our leading products in an easy to use, easily installed, "ready to go" system is why "The Six Pack" makes a perfect addition to Oil-Rite Corporation's extensive line of industrial lubrication equipment.


More from Mining, Oil Drilling, Refining Products & Equipment