Loader Tire helps maximize productivity.
Press Release Summary: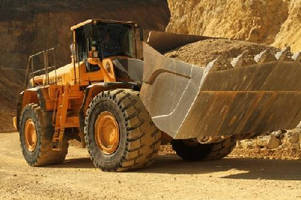 Equipped with Michelin's patented B2 technology, MICHELIN XTXL® E4/L4 minimizes rim slip thanks to flat bead wire, which strengthens clamping force on wheel and increases contact surface with rim. Tire also benefits from added solid steel cables, thick sidewalls, and steel belt offering protection against punctures in tread area. Shoulder design helps tire to cool quickly, while wide grooves and channels provide traction and grip on graded and loose ground conditions.
---
Original Press Release:

New Michelin Loader Tire Beefs Up Productivity in Heavy-Duty Applications



MICHELIN XTXL E4/L4 incorporates new technology for improved operational efficiency over predecessor



GREENVILLE, S.C., -- MICHELIN Earthmover has introduced a loader tire designed with improved casing protection, a reinforced casing ply and Michelin's patented reinforced bead zone.



The new MICHELIN XTXL(®) E4/L4 tire offers operators several key performance benefits:



--  10 percent improved tire life((1))

--  15 percent increase in load-carrying capacity

--  up to 20 percent more torque from the wheel to the ground through the rim interface compared to its predecessor, the MICHELIN(®) XLD D1 tire

--  up to 20 percent decrease in out-of-service tires is possible due to an enhanced puncture-resistant crown and 10 percent stronger sidewalls((1)).



The MICHELIN XLD D1 tire is being replaced with the 26.5R25 XTXL E4/L4, 29.5R25 XTXL E4/L4 and 35/65R33 XTXL E4/L4.



"New generations of more powerful loader models are the new normal on many construction and quarry sites," said Jamey Fish, director of earthmover marketing for Michelin North America. "This tire enables operators to maximize their operating time and face their productivity challenges head-on.  And longer tire life is better for the environment with fewer raw materials being used and fewer tires to be recycled."



The XTXL E4/L4 is equipped with Michelin's patented B2 technology, which reduces rim slip thanks to a new flat bead wire, which strengthens the clamping force on the wheel and increases its contact surface with the rim, compared to the previous-generation MICHELIN XLD D1 tire. The tire also benefits from more solid steel cables, increased metal mass, thicker sidewalls and a new steel belt offering increased protection against punctures in the tread area. It has a greater load capacity of nearly 36 tons for the 35/65R33 tire size, than the previous generation MICHELIN XLD D1, thanks to its cable-reinforced carcass.  The shoulder design helps the tire to cool more quickly, while the central zone and its large, beefy lugs are cut resistant to improve both damage resistance and traction capability. Wide grooves and channels provide traction and grip on graded and loose ground conditions.



(1) Compared with MICHELIN(®) XLD D1 tire



About Michelin

Dedicated to the improvement of sustainable mobility, Michelin designs, manufactures and sells tires for every type of vehicle, including airplanes, automobiles, bicycles, earthmovers, farm equipment, heavy-duty trucks and motorcycles. The company also publishes travel guides, hotel and restaurant guides, maps and road atlases. Headquartered in Greenville, S.C., Michelin North America (www.michelinman.com) employs more than 22,750 and operates 20 major manufacturing plants.



CONTACT: Mary Ann Kotlarich, Michelin North America, Mary-ann.kotlarich@us.michelin.com,  864.458.4884



Web Site: http://www.MichelinMedia.com

More from Packaging Products & Equipment