Liquid Rust Preventive provides long-term protection.
Press Release Summary: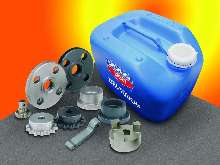 DRI TOUCH® PLUS IRP3 penetrant and sealant works on impregnated and non-impregnated powdered metal parts, regardless of density or porosity of surface. Low viscosity liquid penetrates remaining porosity of powdered or sintered metals to displace moisture beneath surface. Once dry, it leaves semi-solid protective film that is absorbed by part itself. Protection levels range from 80-120 hr of salt spray or several hundred hr of humidity resistance.
---
Original Press Release:

Powdered Metal Parts Protected From Corrosion With DRI TOUCH® PLUS Rust Blocker - Provides Long Term Protection


Call 952-937-7931 For FREE Brochure

Eden Prairie, Minnesota: DRI TOUCH® PLUS IRP3 water-displacing rust preventive is an ideal penetrant and sealant for all grades of powdered metal parts. It provides long-term protection in storage or in service.

DRI TOUCH PLUS works well on both impregnated and non-impregnated powdered metals, regardless of the density or porosity of the surface. The liquid has a very low viscosity, so it is able to penetrate the remaining porosity of powdered or sintered metals to displace moisture beneath the surface. Once dry, it leaves a semi-solid protective film that is actually absorbed by the part itself, forming an effective barrier against atmospheric humidity and corrosion.

The DRI TOUCH PLUS coating is more effective than conventional oil products because it will not drain off parts in storage or wick off into packaging materials. Therefore, it provides better long-term protection. Actual protection levels range from 80 to 120 hours of salt spray (ASTM B117) or several hundred hours of humidity resistance (ASTM D1748).

Applied by room temperature immersion or low-pressure spray techniques, DRI TOUCH PLUS can be applied immediately after sintering or after machining, then allowed to dry. Parts can be immersed into the DRI TOUCH PLUS liquid while contained in a basket, then spin-dried or allowed to dry in a tote bin. For other applications, DRI TOUCH PLUS can be applied by low-pressure spray and allowed to penetrate a tote bin of parts.

In addition to powdered metal components, DRI TOUCH PLUS provides an effective corrosion barrier for all types of cutting tools and hand tools. It works especially well on retail packaged products in shrink wrap or blister packages, where an oily finish is undesirable.

DRI TOUCH PLUS is available in 5 gallon and 55 gallon containers directly from Birchwood Casey.

Interested in more information?
Call 952-937-7931 for Free Brochure. Or write to Birchwood Casey, 7900 Fuller Road, Eden Prairie, Minnesota 55344-9702. Fax: 952-937-7979. Visit the Birchwood Casey website at www.birchwoodcasey.com. Email: info@birchwoodcasey.com

More from Fluid & Gas Flow Equipment