Linear and Rotary Electric Actuator facilitates PCB assembly.
Press Release Summary: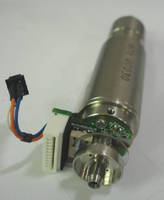 Measuring 140 x 77.25 x 35 mm with stroke length of 30 mm or 180 x 77.25 x 35 mm with 50 mm stroke length, LAR31 Series features vacuum built in shaft through rotary motor, which assures that external objects are ejected through other end, preventing dust build-up in unit. Standard encoder resolution is 5 µm, with options of 1, 0.5, and 0.1 µm. Backlash-free unit can be programmed to control force/torque, position, and velocity in all axes simultaneously.
---
Original Press Release:

Upgraded LAR31 Series of Linear and Rotary Electric Actuator



The vacuum-though shaft eliminates common dust problems in pick and place applications. Upgraded LAR31 series of linear and rotary actuator improves performance and reliability in PCB assembly.

SMAC is pleased to introduce upgraded LAR31 series of linear and rotary electric actuator. The actuator has the vacuum built in the shaft through the rotary motor. The vacuum assures that any external objects (e.g. dust) are ejected through the other end, which prevents dust build-up in the unit. This reduces maintenance down time and improves production efficiency. The actuator is reliable and has MTBF >100 million life cycle.

The SMAC LAR31 series electric linear and rotary actuator is equipped with a standard encoder resolution of 5µm, with options of 1µm, 0.5µm and 0.1µm resolutions. Repeatable positioning to +/- 2 encoder counts. Further to this highly accurate placement with shaft run-out ≤ 10um. The unit has no backlash, low repeatable friction and very low hysteresis. The LAR31 series actuator is compact measuring only 140mm x 77.25mm x 35mm with stroke length 30mm, and 180mm x 77.25mm x 35mm with stroke length 50mm. The actuator can easily be programmed to control force/torque, position & velocity in all axes at the same time. This enables the ability to press with specific force and measure displacement.

The unit offers multi-functionality with the ability to assemble & test components with additional life test & measurement functions in one single unit. The system has the significant advantage of low repeatable friction.

The actuator also has SMAC's unique 'Softland' function which enables the unit to gently land on a surface and then apply the specific force required to set the part. This is ideal for handling fragile components without damages.

This SMAC solution is highly cost efficient has now been used in a number and variety of PCB assembly applications across the world.

SMAC Moving Coil Actuators

SMAC Inc. is the world leader in Moving Coil Actuators and associated control systems. Headquartered in Carlsbad, California USA with subsidiaries throughout Europe, Asia and Japan, SMAC delivers high-tech solutions to industry with linear and rotary Moving Coil Actuators, positioning stages and electronic control solutions; particularly where 100% verification is needed.

Related