Linear Actuators produce more than 20 g acceleration.
Press Release Summary: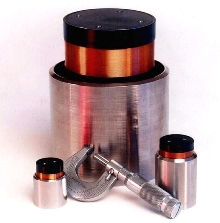 Non-commutated Voice Coil Linear Actuators are offered in stroke lengths from .05 to 3.00 in. Standard models range from .375 in dia x .35 in. long, supplying .06 lb of continuous force and .18 lb peak, to 8.0 in. dia x 3.0 in. long, supplying 133 lb continuous force and 400 lb peak. When used in closed loop, typical accuracy is 0.00004 in. and repeatability is 0.00002 in. Units provide smooth, hysteresis-free motion over entire speed range.
---
Original Press Release:

High Acceleration, Linear "Voice Coil" Actuators


Valencia, CA - An expanded series of non commutated, linear "Voice Coil" actuators has been introduced by H2W Technologies, Inc. "Voice Coil" or "Moving Coil" linear actuators from H2W Technologies, which are capable of producing in excess of 20 g's of acceleration, are available in stroke lengths from .05 in. (1.3 mm) to 3.00 in. (76.2 mm). Direct drive, "Voice Coil", linear actuators feature low electrical and mechanical time constants and provide smooth, hysteresis-free motion over their entire speed range, including very low speeds. "Voice Coil" linear actuators are ideal for positioning applications such as laser beam steering mirrors, optical scanning, tracking, stabilizing, pointing and aiming, hermetically sealed cryo-cooler actuators, pumps, valve actuation, medical instruments and semiconductor manufacturing equipment.

Compact and low cost, non commutated linear actuators provide a more reliable and simpler motion system that can be easily integrated into new and existing designs. Standard models are available from .375 in. (9.5 mm) dia. x .35 in. (9 mm) long, supplying .06 lbs. (.3 N) of continuous force and .18 lbs. (.9 N) peak to 8.0 in. (203.2 mm) dia. x 3.0 in. (76.2 mm) supplying 133 lbs. (591 N) of continuous force and 400 lbs. (1778 N) peak. Custom configurations (force and/or stroke length) can be specificied. Peak acceleration of these low inertia actuators is typically greater than 20 g's, and move/settle times can be less than 15 milliseconds. When used in a closed loop the typical accuracy is 0.00004 in. (1 micron) and repeatability is 0.00002 in (0.5 micron). Moving magnet versions are also available.

H2W Technologies, Inc. is dedicated to the design and manufacture of linear and rotary motion products that are used throughout the motion control industry. The complete line of linear electric motors includes: Single and dual axis linear steppers, DC brush and brushless linear motors, voice coil actuators, and AC induction motors. Also offered is a complete line of ball screw, lead screw, and belt driven positioning stages.

Other motion control products include: Limited angle torque motors for compact, limited angular excursion rotary servo applications, 3 phase brushless rotary servo motors with matching digital servo amplifiers and permanent magnet linear brakes for fail-safe, zero power braking for baggage handling and people moving applications as well as amusement park rides.

With over 75 years combined experience in the linear and rotary motion field, the H2W Technologies team of engineers offers the optimal solution to the most demanding motion control, requirements.

For additional information contact Mark Wilson at H2W Technologies, 28310-C Avenue Crocker, Valencia, CA 91355; Tel: 888-702-0540, Fax: 661-702-9348, E-Mail: info@h2wtech.con or visit the Web site at www.h2wtech.com


More from Communication Systems & Equipment