Lindberg/MPH Ships Electrically Heated Cyclone Pit Furnace to a Steel Heat Treater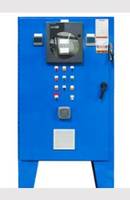 RIVERSIDE, CALIF. - MARCH 14, 2018 - Lindberg/MPH announced the shipment of an electrically heated cyclone pit furnace to a steel heat treater. This is a repeat customer for Lindberg/MPH and the pit furnace will replace an existing Lindberg furnace at their facility. The cyclone pit furnace will be used for a heat treating process on aircraft components.
The maximum temperature rating for this electric pit furnace is 1250ºF. The work chamber has a 38" diameter x 48" depth and is constructed with an alloy liner backed with 7" of block insulation. The customer requested tight temperature uniformity and this design met a +/-10ºF temperature uniformity throughout the qualified work zone.
The top load furnace features a thermocartridge recirculating fan and solid wall baffle for uniform heat distribution. The furnace fan utilizes a centrifugal blower type alloy blade and a 5 HP motor with belt and pulley drive system. The steel outer shell is constructed from heavy gauge steel plate reinforced with structural steel members.
"Ease of use and maintenance is always a top priority when we engineer equipment. This new Lindberg/MPH design features a maintenance friendly fan and motor assembly to provide reliable and easy maintenance when needed." -Kenneth Zielke, Sales Engineer
Unique features of this Lindberg/MPH cyclone pit furnace include:
Alloy liner protects work chamber from high velocity flow and prevents damage while loading/unloading
Easily replaceable heater plug assembly
Recirculating fan with variable frequency drive
Temperature uniformity of +/-10ºF
Workload support for customer's baskets or fixtures
Lid limit switch
Temperature controller with digital recorder
Paper chart recorder
Variable frequency fan motor drive
Installation and start-up service performed by factory trained technicians
About Lindberg/MPH
In addition to pit furnaces, Lindberg/MPH is a leading manufacturer of standard and custom industrial heat treat furnaces, including pit, box, IQ, and belt type for the ferrous markets. Lindberg/MPH also manufactures a variety of non-ferrous melting and holding equipment including but not limited to, aluminum melting furnaces, zinc melting furnaces, aluminum and zinc launder systems, crucible furnaces, and automatic dosing equipment. Lindberg/MPH customers cover a wide range of industries including aerospace/military, automotive, commercial heat treating, energy/oil, electronics and the forging markets. Founded in 1917, the company has more than 75,000 industrial furnace installations worldwide and their equipment is backed by a full range of customer support services and the most extensive replacement parts inventory in the industry. Lindberg is a proven leader in the thermal processing industry, with a long track record of proven policies and management practices.
Lindberg/MPH is owned by Thermal Product Solutions ("TPS"), a leading American manufacturer of custom industrial ovens used for heat treating, finishing, drying, curing, manufacturing automation and process control. TPS is a global leader in thermal processing products and test solutions with brands including Baker Furnace, Blue M, Gruenberg, Tenney, Lindberg, Lunaire, MPH, and Wisconsin Oven. For more information on equipment solutions from TPS visit the website at http://www.thermalproductsolutions.com.
Contact This Company Download Spec Sheet
More from Thermal & Heating Equipment