Lindberg/MPH Ships a 1200°C Tube Furnace to the Electronics Industry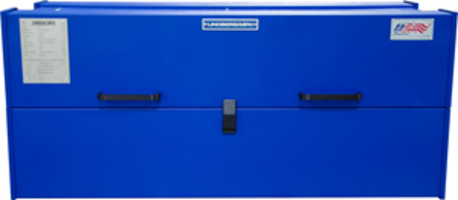 November 9, 2017 – Lindberg/MPH announced the shipment of a 1200°C single zone tube furnace to a manufacturer of electronic components. The 1200°C tube furnace offers exceptional radial and linear temperature uniformity, process repeatability, rapid heat-up and response, and requires minimal maintenance. It is ideal for annealing, ashing, carbon firing, ceramic firing, hardening, sintering, solution treating, stress relieving, and other heat-treating applications.
The temperature range of this tube furnace is 100° C to 1200° C and the work chamber dimensions are 3" to 6" diameter x 36" heated length. The tube furnace can be used for horizontal or vertical operation. The furnace shell is designed with two highly effective insulating air spaces which results in lower exterior surface temperature than other designs. The 1200° C tube furnace utilizes a Eurotherm programmable controller that offers multiple programs and uses PID control and auto-tune for fast, efficient start up. The overtemperature control protects the furnace and load from over-heating.
"The split hinge design of this tube furnace allows for easy observation, fast cooling, and convenient placement of the process tube. It provides overall ease of operation for the customer and can be used for processing a variety of material such as ceramic, quartz, or alloy process tubes."- Shaina Scott, Applications Engineer
Unique features of this Lindberg/MPH 1200°C single zone tube furnace include:
Designed for horizontal or vertical operation
Patented Moldatherm® LGO™ heating element modules
Long-life, energy efficient elements
Unique cabinet design
Heat reflecting element support assembly
Compact cabinet with high temperature resistant painted finish
Accepts interchangeable Moldatherm® tube adapters
Long-life Platinel® II thermocouple(s) with 10' compensated lead wire and polarized plug
About Lindberg/MPH
Lindberg/MPH is a leading manufacturer of standard and custom industrial heat treat furnaces, including pit, box, IQ, and belt type for the ferrous and non-ferrous markets. Lindberg/MPH customers cover a wide range of industries including aerospace/military, automotive, commercial heat treating, energy/oil, electronics and the forging markets. Founded in 1917, the company has more than 75,000 industrial furnace installations worldwide and their equipment is backed by a full range of customer support services and the most extensive replacement parts inventory in the industry. Lindberg/MPH is a proven leader in the thermal processing industry, with a long track record of proven policies and management practices.
Lindberg/MPH is owned by Thermal Product Solutions ("TPS"), a leading American manufacturer of custom industrial ovens used for heat treating, finishing, drying, curing, manufacturing automation and process control. TPS is a global leader in thermal processing products and test solutions with brands including Baker Furnace, BlueM, Gruenberg, Tenney, Lindberg, Lunaire, MPH, and Wisconsin Oven. For more information on equipment solutions from TPS visit the website at www.thermalproductsolutions.com.
Contact This Company Download Spec Sheet
Related