Limited-Angle Torque Motors offer smooth, precise operation.
Press Release Summary: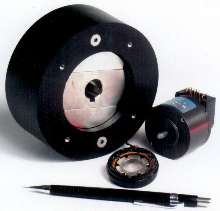 Single-phase, non-commutated, rotary actuators (torquers) are available in various sizes and custom designs with continuous torque rating of 500 oz-in. and peak torque rating of 1500 oz-in. Kit style TMR-V series motors are suited for closed loop applications, while housed TMR-H motors include custom configured shaft that extends out of back for mounting encoder. Compact actuators offer acceleration to 10,000 rad/sec², accuracy of 1 arc/sec, and 0.5 arc/sec repeatability.
---
Original Press Release:

Limited Angle Torque Motors are Precise Reliable, and Compact


Valencia, CA-Applications for Limited Angle Torque Motors (LAT) from H2W Technologies can be found in the depths of "Inner Space," to the far reaches of "Outer Space." Commonly referred to as "Torquers," these rotary actuators are ideal for applications that require quick, precise angular positioning (typically less than 170°). High acceleration (to 10,000 rad/sec²), high accuracy (to 1 arc/sec), and high repeatability (to 0.5 arc/sec) make them ideal for: Focusing lenses, positioning laser reflecting mirrors, operating valves, machine tools, and clean-room and aerospace applications.

Kit style and housed torquers are available in a broad range of sizes and custom designs. Models featuring a continuous torque rating of 500 oz-in (3.5 Nm) and a peak torque rating of 1500 oz-in (10.5 Nm) are available. They easily fit in spaces where conventional motors will not. The kit style TMR-V series of LAT motors has been designed for extreme applications and is well suited for closed loop applications requiring a compact device that provides smooth, torque ripple free movement. The TMR-H series of motors are housed. The shaft of the "H" series LAT motor can be custom configured and it extends out of the back for mounting an encoder. Custom front and rear mountings are available.

Extremely smooth in operation, and vacuum compatible to 10-5 Torr, these single phase, non-commutated LAT motors offer an excellent linear torque profile (constant torque) for the rated angular displacement, resulting in easier setup and tuning of the control loop.

H2W Technologies, Inc. is dedicated to the design and manufacture of linear and rotary motion products that are used throughout the motion control industry. The complete line of linear electric motors includes: Single and dual axis linear steppers, DC brush and brushless linear motors, voice coil actuators, and AC induction motors. Also offered is a complete line of ball screw, lead screw, and belt driven positioning stages.

Other motion control products include: Limited angle torque motors for compact, limited angular excursion rotary servo applications, 3 phase brushless rotary servo motors with matching digital servo amplifiers and permanent magnet linear brakes for fail-safe, zero power braking for baggage handling and people moving applications as well as amusement park rides.

With over 75 years combined experience in the linear and rotary motion field, the H2W Technologies team of engineers offers the optimal solution to the most demanding motion control requirements.

For additional information contact Ted Scheumann at H2W Technologies, 28310-C Avenue
Crocker, Valencia, CA 91355; Tel: 888-702-0540, Fax: 661-702-9348, E-Mail: info@h2wtech.com or visit the Web site at www.h2wtech.com

More from Communication Systems & Equipment