LEWCO Designs Oven for Curing Edge Sealants on Structural Composite Beams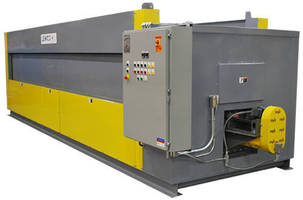 SANDUSKY, OH - When a leading aerospace company approached LEWCO Application Engineer's with a rather unique curing application, you can bet they figured out the preeminent solution. 



The application?  Curing edge sealants on structural composite beams up to 20 ft. long, while maintaining a continuous process to meet production requirements.



The solution?  One cost-effective, ergonomic, curing oven; proven to increase capacity by leveraging first-in-first out product flow.  The custom solution, created by LEWCO Oven Engineers in conjunction with their Conveyor Engineers, utilized a standard LEWCO multi-strand chain conveyor design that was modified to accommodate non-marring, cleated belts in lieu of the chain strands.  The conveyor is completely manual, no power. This design allows operators to insert composite beams onto the conveyor and manually advance the conveyor forward, clearing the load position to accept the next beam.  A second operator removes the finished composite beams from the conveyor on the opposite side of the oven. 



One big safety feature of this oven is the vertical down guillotine doors located on each side of the unit. By designing the doors to go down instead of up, operators don't have to reach under a suspended door during load/ unload.  This presents a tremendous safety advantage because even in the event of power or component failure, operators will be safe from having the doors close on them.



Other features of the oven include two high-efficiency circulation fans, which deliver horizontal airflow to the workspace through LEWCO's proprietary plenum design.  LEWCO's standard oven control package with a single set-point process temperature controller and redundant high-limit controller was included.  The controls were wired to NFPA 70 and 79 electrical standards by LEWCO's in-house technicians. 



For decades, LEWCO has been a leader in Industrial Oven design, innovation, and manufacturing.  Our line of Industrial Ovens includes a full range of Batch Ovens, Conveyor Ovens, Drum Tote Ovens, Hot Boxes, Drum Heating Tunnels, and large Field Assembled Ovens, as well as High Temperature Furnaces.  Our products are employed in aerospace, automotive, primary metals, chemical, and numerous other manufacturing industries.  At LEWCO, Inc. we focus on customer value; quality products, on-time, at a competitive price.  To view our full line of process heating products, please visit our website www.lewcoinc.com.



More from Packaging Products & Equipment