LED Infrared Light Emitter offers average life of 50,000 hrs.
Press Release Summary: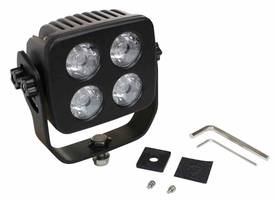 LED10W-4R-VIR-2P LED Infrared Light Emitter is available in beam configurations such as spot, flood and a combination of both. Unit produces 1600 lumens of visible light and 750nm, 850nm or 940nm infrared light. Product is designed from die cast aluminum, stainless steel and unbreakable polycarbonate and is resistant to accumulation of dust, dirt and humidity. LED10W-4R-VIR-2P LED can be trunnion mounted and is rated to IP68 standards.
---
Original Press Release:
Larson Electronics LLC Releases LED Infrared Light Emitter
Leader in industrial lighting, Larson Electronics, announced the release of a new LED infrared light emitter, that produces a combination of visible and infrared light. This IP68 rated light bar runs any voltage from 9 to 48 volts and is engineered to withstand rugged environments and harsh conditions, perfect for use in commercial or industry security applications and military implementation.
The Larson Electronics LED10W-4R-VIR-2P light bar is a compact, high powered LED emitter producing both 1600 lumens of visible light projected in a bright white beam, as well as infrared light available in 750nm, 850nm or 940nm, which can reach over 1000 feet with night vision equipment. The entire LED assembly draws 26 watts and just over 2 amps with the help of advanced electronic drivers. This light emitter has 3 separate beam configurations: spot, flood and a combination of both, offering users lighting versatility. Multi-voltage capability makes this unit ideal for mobile and stand-alone applications where power systems don't operate with 12 volts and external generators, transformers or inverters are impractical.
The LED10W-4R-VIR-2P utilizes extruded aluminum housing with an advanced heat radiating fin design which dissipates heat efficiently to produce maximum power and longevity. The result is more light and longer LED life averaging 50,000 hours. This infrared LED light bar is waterproof to 3 meters and resistant to the accumulation of dust, dirt and humidity. Formed from die cast aluminum, stainless steel and unbreakable polycarbonate, this light emitter is designed for tough environments. These LED lights are trunnion mounted, and feature a smaller profile and lighter weight, making them ideal for use in locations where traditional lights cannot fit.
"This light emitter produces both visible and infrared light in one compact unit," said Rob Bresnahan, CEO of Larson Electronics LLC. "This is unique, in that this unit can be used for normal day operations and discreet night applications."
About Larson Electronics LLC: Larson Electronics LLC is a manufacturer of industrial lighting equipment and accessories. The company offers an extensive catalog of industry-grade lighting and power distribution products for the following sectors: manufacturing, construction, food processing, oil and gas, military, marine and automobile. Customers can benefit from the company's hands-on, customized approach to lighting solutions. Larson Electronics provides expedited service for quotes, customer support and shipments.
More from Electrical Equipment & Systems