LeanDrum CF Washer features forced air-drying system.
Press Release Summary: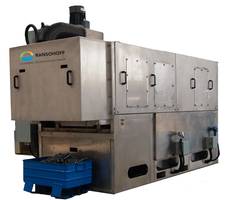 Featuring stainless steel tanks, drum and housing, LeanDrum CF Washer offers quick access for drum inspection, cleaning and maintenance. Suitable for cold forming cleaning applications, unit with baffled tank design ensures user to apply clean solution to the parts and enables separation of non-emulsified oils. Product provides full immersion cleaning.
---
Original Press Release:
Ransohoff Introduces the Leandrum CF Washer for High Volume and Cold Forming Cleaning Applications
Ransohoff, a division of Cleaning Technologies Group LLC, has introduced its LeanDrum CF Washer. This best in class energy efficient platform provides a reliable solution for your high-volume cleaning needs. The innovative solution delivery system has proven to be ideal for cold forming cleaning applications.
The LeanDrum CF features stainless steel tanks, drum and housing with a robust construction that Ransohoff is known for. Its unique cleaning process provides full immersion cleaning, eliminating energy losses seen in traditional spray systems which cause significant heat loss and chemical usage. Additionally, the spare parts cost is reduced as pumps and filters are not needed. The baffled tank design ensures that clean solution is applied to your parts and enables separation of non-emulsified oils. The forced air-drying system quickly dries the parts prior to exit. With this new design, you will realize less chemical usage and better oil control resulting in a longer bath life. Because of the unique solution delivery system foam control is no longer an issue. The new LeanDrum CF is designed for quick and safe access that allows for easy drum inspection, cleaning, and maintenance. The result is high quality cleaning and an extended machine life.
The new LeanDrum CF comes standard with a 3-year warranty on workmanship and 1 year on purchased components. For those manufacturers who desire a high quality, high performing cleaning system, the LeanDrum CF should be top on their list.
For more information about the LeanDrum CF Washer, visit http://www.ctgclean.com/parts-washers/leandrum-CF
Cleaning Technologies Group, LLC is a world leader in providing innovative cleaning and waste minimization technologies to precision and industrial manufacturing markets. CTG is comprised of Ransohoff located in Cincinnati, Ohio, Blackstone~NEY Ultrasonics located in Jamestown, New York, and CTG Asia located in Suzhou, China. The Group is the premier provider of high technology, environmentally friendly parts-cleaning and waste-minimization equipment and services to the global marketplace. CTG LLC is a wholly owned subsidiary of NM Group Global, LLC.
NM Group Global LLC is a holding company for a growing group of manufacturing firms with a global reach for sourcing and marketing. Founded in 2002 with the purchase of National Machinery LLC, the original holding company, and world leader in the development and manufacture of cold forming machines, process technology, and aftermarket services. National Machinery, founded in 1874, is headquartered in Tiffin, Ohio with service centers and sales offices throughout the world.
Contact Information:
For Cleaning Technologies Group, LLC:
Dave Melton
4933 Provident Drive
Cincinnati, OH 45246
(800) 248-9274
(513) 870-1783
Website: www.ctgclean.com
For Cleaning Technologies Group Asia- Suzhou, China
Enlin Zheng (Ned)
56 Songshan Road, Suzhou New District
Jiangsu Province, China PRC: 215151
(86) 0512-66161698
(362) 529-1244
Website: www.ctgclean.cn
For NM Group Global, LLC:
Bill VanCamp
161 Greenfield Street
Tiffin, OH 44883-2471
(419) 443-2224
wevancamp@nationalmachinery.com
Website: www.nationalmachinery.com
More from Cleaning Products & Equipment