Leak Detector Calibrators provide instant readings.
Press Release Summary: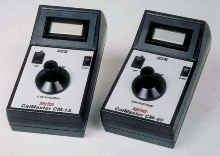 Suited for pressure-, flow-, or vacuum-type leak testers, CalMaster CM-24 covers small leak rate and low flow calibration range of 0.025-1.999 sccm, while CM-15 serves typical calibration range of 0.25-19.99 sccm. Units provide direct reading of leakage rates traceable to NIST 0.2% primary standards, with repeatability of 0.05%. Rated for operation in ambient temperatures from 40-105ºF, both units accept max test pressures to 250 psig and max test vacuum to 5 psig.
---
Original Press Release:

Low-Flow Calibrators for Production Leak Detectors Offers Easy Operation, Instant Readings, Rugged Design


Two hand-held instruments from InterTech Development Co. (IDC) quickly and accurately calibrate most makes of pressure-, flow- or vacuum-type production-line leak testers, providing an easy way to maintain accurate quantitative leak data on the production line or in the laboratory. The CM-25 CalMaster covers the smaller leak-rate and lower-flow calibration range of 0.025 - 1.999 sccm (standard cubic centimeters per minute), for systems testing to tighter leak- or flow-rate specifications, while the CM-15 serves the broadly typical calibration range of 0.25 - 19.99 sccm.

First of their type and size in the leak-detection industry, CalMaster calibrators provide a direct and almost instantaneous reading of leakage rates traceable to NIST (National Institute of Standards and Technology) 0.2% primary standards, with repeatability of 0.05%, and display their volumetric measurements on a 3.5-digit LCD readout in half-inch (13 mm) -high numerals.

Smaller, more rugged and easier to use than conventional calibration devices, including glass orifices or Bubble-O-Meters, CalMasters measure 7.5" long x 4.3" wide x 3.125" high (190 x 109 x 79mm), and weigh 1.8 lbs (820g). Their damage-resistant design contains no delicate mechanical movements or orifices, and is rated for operation in ambient temperatures from 40º to 105º F (4º - 40º C). Both units will accept maximum test pressures to 250 PSIG (17 bar), and maximum test vacuum to 5 psig (0.35 bar).

In use with a pressure or flow-type leak detector, the CalMaster measures air escaping from the leak detector (or leak fixture) calibration port. Inside the instrument, the escaping air flows through a precision needle valve, across InterTech's proprietary mass flow sensor and out to the atmosphere. Calibration of vacuum-type leak detectors is similar, with the connection being made to the CalMaster's VAC port.

CalMasters readily calibrate leak detectors with different parameters or test cycles, can be easily set to any leak or flow rate within their respective sccm ranges, and withstand 10 times over-range. All units are shipped complete and ready to use, with all required fittings, standard 9-volt alkaline battery (which supports 50 hours of continuous operation) and carrying case. Both models are priced around $1,400.

Certified under the ISO-9001:2000 International Standards for Quality Management and recognized internationally as a leading manufacturer of automated leak testing systems, InterTech Development Co. designs and builds production automation systems for the assembly and testing of components used in the automotive, medical, appliance, fluid power and other industries. InterTech integrated assembly and test systems cut costs by providing strict quality control, efficient parts handling and just-in-time capabilities.

For more information about the CM-25 and CM-15 CalMaster Calibrators, visit InterTech Development Company's Web site at www.intertechdevelopment.com, or contact InterTech at 7401 N. Linder Ave., Skokie, IL 60077-3220. Phone: (847) 679-3377; FAX: (847) 679-3391; E-Mail: info@intertechdevelopment.com.

More from Sensors, Monitors & Transducers