Leadless Ceramic SMT Package meets optoelectronic circuit needs.
Press Release Summary: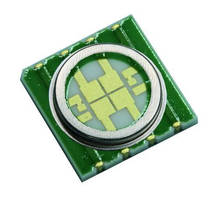 JDEC TO-style SMT leadless packages address photonics industry demands for SMT packaging solution as alternative for standard TO-type packages. SMT packages can be produced for circuits and I/O configurations fully compatible with most JEDEC TO-style window caps, such as TO-8, TO-46, and beyond at operating frequencies up to 10 GHz and higher. Ability to use standard TO-style lids on surface-mountable substrate eliminates need for through-hole mounting of device on PCB.
---
Original Press Release:

Remtec Introduces New Leadless Ceramic SMT Packages Compatible with Standard JDEC TO-Style Window Lids for Optoelectronic Circuits.



Norwood, MA. – Remtec Inc.,(www.remtec.com) the leading manufacturer of substrates and packages using PCTF® (Plated Copper on Thick and Thin Film) metallization, has applied its time-proven leadless ceramic SMT substrate technology to the development of a new line of standard JDEC TO-style SMT leadless packages for electro optical circuits.  These new packages address the long-standing demands of the photonics industry for an SMT packaging solution as a viable alternative for standard TO-type packages.



Now standard economical surface mounted packages can be produced for a wide range of circuits and I/O configurations fully compatible with most of JEDEC TO-style window caps such as TO-8, TO-46 and beyond at operating frequencies up to 10 GHz and higher.  This approach reduces the total design cycle, minimizes tooling and engineering costs and reduces end user assembly costs. Remtec's ability to use standard TO-style lids on a surface-mountable substrate eliminates the need for through-hole mounting of the device on the PCB.  More importantly, the device assembly can be done in multiple-up panel format resulting in additional cost savings.



Remtec's new SMT packages for optoelectronic circuits are based on extensive experience in design and manufacturing of various products for RF, photonics and other industries.  Remtec's expertise in the design and fabrication of RF substrates and packages complements its capability in the fabrication of substrates and submounts for laser and photo diodes, LEDs, sensors and detectors. This experience extends to a broad use of its PCTF® technology for surface mounted leadless substrates and packages with hermetic, metal plugged vias and castellations (wraparounds) on alumina, aluminum nitride and beryllium oxide.



New SMT leadless ceramic packages with standard TO-style window lids permit Remtec to expand product offerings to a number of applications such as APD preamplifiers, LED sensors for non-invasive medical testing, VCSEL laser diodes, optical data transfer systems, analytical instrumentation and other circuits.



For more information, please visit www.remtec.com or stop at our booth 4227 at SPIE Photonics West, February 10-12, 2015.



Remtec, a RoHS compliant, ISO 9001:2008 registered and ITAR compliant company, operates a manufacturing facility totaling 33,000 sq. ft. in Norwood, MA.  Remtec provides custom and semi-custom packaging solutions for RF/MW products, DC power electronics, optoelectronics and other high density circuit applications   in commercial, industrial and military industries.



Editorial Contact: 

Dean M. Wood  

401-225-6789



More from Thermal & Heating Equipment