LDS Antennas integrate SMT components.
Press Release Summary: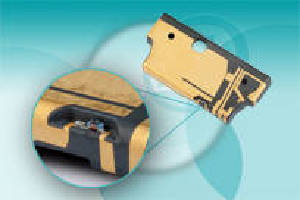 By incorporating SMT components, RoHS-compliant 3D Laser Direct Structuring (LDS) Antennas save space on mobile device's printed circuit board. Antennas can be matched and tested as one RF unit prior to phone assembly, and frequency variants, tuning, and late optimization changes can be done quickly, avoiding rework or rebuild of mobile device's main PCB.
---
Original Press Release:

Pulse Electronics Introduces Enhanced LDS Antennas Including Integrated SMT Components



Enables space saving, tested solutions for mobile devices



San Diego, Calif. -- Pulse Electronics Corporation (NYSE: PULS), a leading provider of electronic components, now announces in-house capability to integrate passive surface mount technology (SMT) components on 3D laser direct structuring (LDS) antennas. Incorporating SMT components with the 3D LDS antenna structure saves space on the mobile device's printed circuit board and optimizes the use of available space on the antenna. The antenna can be matched and tested as one RF unit prior to phone assembly and frequency variants, tuning, and late optimization changes can be done quickly and cost effectively. This avoids costly rework or rebuild of the mobile device's main PCB and improves time-to-market.



"In some mobile device designs, in order to achieve the best performance within the given volume and to have a better degree of freedom to tune the antenna, SMT components need to be integrated to the antenna radiator. Pulse's new technology combines traditional SMT processing with 3D LDS," said Maritta Timosaari, marketing director, Pulse Electronics Wireless Division. "During the manufacturing cycle, standard lead-free SMT passive matching components, such as inductors, capacitors, and connectors, are assembled on the antenna. Benefits of this solution are even more significant when realizing more complex RF designs."



Pulse Electronics' LDS antennas are high-performance RF antennas. LDS is a 3D antenna manufacturing technology created when a laser beam transfers the antenna design directly onto a molded 3D surface.



The antennas with SMT components are RoHS compliant. This technology is available immediately for use on new mobile device designs. More information can be found on the datasheet located on the Pulse Electronics website at http://www.pulseelectronics.com/download/3897/smt/pdf or contact Pulse at www.pulseelectronics.com.



About Pulse Electronics: 

Pulse Electronics is the electronic components partner that helps customers build the next great product by providing the needed technical solutions. Pulse Electronics has a long operating history of innovation in magnetics, antennas, and connectors, as well as the ability to ramp quickly into high-quality, high-volume production. The Company serves the wireless and wireline communications, power management, military/aerospace, and automotive industries. Pulse Electronics is a participating member of the IEEE, SFF, OIF, HDBaseT Alliance, CommNexus, NFC Forum, MoCA, and IWPC. Visit the Pulse Electronics website at www.pulseelectronics.com.



Copyright ©2013 Pulse Electronics Corporation. All rights reserved. All brand names and trademarks are properties of their respective holders.



Maritta Timosaari

Marketing Director

Pulse Electronics Wireless Division

Tel: +358- 40-502 9529

Email: mtimosaari@pulseelectronics.com 

More from Material Handling & Storage