LCA6 Moving Coil Motor comes with built-in sensor feedback system.
Press Release Summary: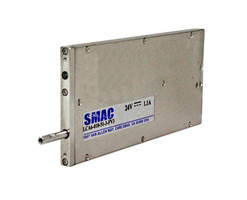 SMAC's LCA6 Moving Coil Motor offers linear stroke of 5-30 mm with encoder resolution of 0.1-5 micron. Having coil resistance of 18.9 Ω and peak force of 5N at 1.5 A, unit provides programmable position, force and velocity. Motors come with flat coils that are centered between cross rollers in order to reduce deflection load. LCA6 is used in electronic pick-and-place, biomedical dispensing, and QC measurement.
---
Original Press Release:
SMAC Introduces Thinnest Moving Coil Linear Motor in the World
SMAC Moving Coil Actuators introduced details for their LCA6. At 6mm wide, SMAC Moving Coil Actuators claims that the LCA6 is the thinnest linear moving coil in the world.
The LCA6 is cross roller guided, increasing accuracy. Flat coils are centred between cross rollers so deflection load is reduced and rigidity is increased. In addition, the LCA6 is small and stackable, conserving space.
LCA6 Specs:
Linear Stroke: 5-30 mm
Encoder resolution: 0.1-5 micron
Coil resistance: 18.9 OHMS (24V)
Moving mass: 38 g
Total mass: 210 g (w/o cable)
Peak Force: 5N @1.5 amps (lower current models available)
The LCA6 is great for electronic pick-and-place, biomedical dispensing, and QC measurement.
The LCA6 benefits include a compact and slim package, superior cross ruler guiding, ultra-low friction, ultra-smooth and rigid guiding, programmable position, force, velocity, Soft-Land capability, and feedback of position, force, and velocity.
SMAC's built in sensor feedback system gives SMAC's Moving Coil Actuators the unique mechatronic ability to "do work and verify its success at the same time." This would allow the actuators to quality check key processes 100% in real time and feedback the results.
SMAC Moving Coil Actuators claim to be true "mechatronic solutions." By that they mean their actuators have unique capabilities such as programmable and controllable position, velocity, and force, high accelerations, cycle life well over 100M, and a patent-pending "Soft-Land" capability. The Soft-Land capability is very useful when performing fragile part assembly, measurement, moving objects, etc.
SMAC's low friction guide system makes their actuators extremely repeatable from move to move - within 1 msec. SMAC's product development group originated such models as the Linear/Rotary actuator, the 2 independent axis Gripper, the world's first direct drive Robotic Finger, and advanced magnetic circuit designs that have more than doubled forces in the same sized mechanical packages.
For more information, please visit www.smac-mca.com
More from Fasteners & Hardware