LazerArc's New Custom Multi-Axis Positioners Feature Zero Backlash Cam Systems
Press Release Summary: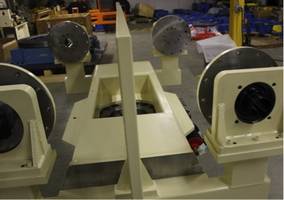 LazerArc Positioners are available with 2, 3, 4 and 5 multi-axis options that allows operator to reduce downtime caused due to switching parts. LazerArc offers 2- Axis Orbital (Skyhook Positioner, Drop Center Positioning), 3- Axis Positioners (Trunnion, Sky Hook, Ferris Wheel Positioner) and 5-axis positioners (L Sky Hook). Units provide robots with improved access to tooling and reduction in floor footprint. Sky Hook system is equipped with acme screw and low backlash gear head.
---
Original Press Release:
LazerArc Now Offering Custom Multi-Axis Positioners to Increase Manufacturing Productivity
The greatest benefit of adding a multi-axis positioner to a production process is increased productivity, when compared to using robots with one fixed position. A manufacturer making a variety of sizes in automotive parts can use the same positioners to accommodate different sizes instead of one robot manufacturing a single size.
Positioners gives the robot: better access to tooling or parts, reduces floor footprint, allows parts to be removed easily and gives the company flexibility to add multi-stations.
Multi-stations provide the advantage of allowing the production staff to switch parts faster without a lot of downtime. Typically, there are 2, 3, 4 and 5 multi-axis positioners options available. Here is a brief overview of LazerArc positioners currently available:
2- Axis Orbital / Skyhook Positioner              
This option uses two-axis motion with more flexibility compared to a tilt or rotational positioner. The biggest advantage is the part does not move outside the range of the robot. So, the process is more efficient and eliminates the need for the robot to move on a track. Thus, reducing overall cost.
Drop Center Positioning
Drop Center position units are similar to the skyhook but the addition of tailstock provides greater load bearing capabilities. Thus, providing additional stability. The Drop Center option is very capable of handling longer / larger parts more efficiently.
3- Axis Positioners
Trunnion:
A trunnion 3-axis positioning system position allows the robot accessibility to one side of the tooling or part and then rotates to work on the second side. This dramatically reduces the time operators need to spend time replacing the part, thus efficiency of the productions line is improved. It is manufactured with high precision cam for the lift.
Sky Hook
A 3-axis Sky Hook positioning robot suits application where the application requires continuous operation on different surfaces. This action will improve the quality, integrity, and appearance of the finished product. The Sky Hook 3-axis positioning system can be manufactured with high precision cam for the lift and rollover mechanism or with high precision acme screw and low backlash gear head for rollover.  
3- Axis Ferris Wheel Positioner
The Ferris Wheel position moves the part along the horizontal axis and uses two head/tail stocks. The advantage of the Ferris Wheel is that it allows the robot to work on the part on one side while the part on the other side is replaced.
4 & 5 Axis Positioner
Customers with complex parts and increased productivity needs often select 4 & 5 Axis positioners. LazerArc 4 & 5-axis positioning systems are manufactured using a combination of zero backlash cam systems with low backlash gear heads to achieve high accuracy and repeatability. 
L Sky Hook
A 5 Axis Sky Hook is a good option for complex geometries that need to be lifted to different heights for the robot. The 5-axis L Sky Hook positioning system is manufactured for multiple part positioning and processing applications.
LazerArc uses a combination of zero backlash cam systems with low backlash gear heads to achieve high accuracy and repeatability on all systems. LazerArc positioning systems are not catalogued items but customer specified assemblies designed to fit your application are capable of fitting into your automated robotic systems and units can be adapted to your specific servo motor or robot brand in order to expand manufacturing capabilities. Every application for positioning systems is different and each customer should be treated with any specific differences in mind. To discuss your needs for LazerArc custom positioning systems visit: https://lazerarc.com/
Related