Latest Melt Pumps are Equipped with Multilayer Heating Arrangement
Press Release Summary: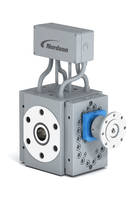 Available in five sizes, with capacities ranging from 1,164 to 4,900 cc per revolution
Increase product consistency that makes it possible to run thinner layers
Designed to speed up installation, simplify maintenance, and streamline the selection of spare parts
---
Original Press Release:
New Design for Large Melt Pumps Increases Output, Enhances Product Quality, and Simplifies Pump Selection for Customers
Nordson Has Harmonized Features of Its High-Capacity BKG® BlueFlow™ Melt Pumps and Reduced Cost of Ownership by Optimizing Their Performance
MÜNSTER, GERMANY, March 1, 2021: Nordson Corporation has expanded its high-capacity melt pump portfolio, enhancing process efficiency and end-product quality while reducing the total cost of ownership in comparison with its previous large pumps.
The new BKG® BlueFlow™ melt pumps are available in five sizes, with capacities ranging from 1,164 to 4,900 cc per revolution. They represent a harmonization and optimization of previous pump designs developed separately by the melt pump business of Kreyenborg GmbH and by Xaloy Corporation, which were acquired by Nordson in 2013 and 2012, respectively. Prior to harmonizing these new large-capacity melt pumps, Nordson had carried out a similar alignment of smaller melt pumps with capacities from 33 to 716 cc per revolution. These pump sizes have been successfully installed in a vast number of extrusion, compounding. and polymerization applications world-wide. 
The new harmonized design reduces the total cost of ownership in these ways:
Improved end-product quality. By maintaining constant pressure and adapting to process variations, the new-design pumps increase product consistency, making it possible to run thinner layers, for example, while staying within target tolerances.
Greater output. Nordson has improved productivity by rheologically optimizing the core components and the polymer flow through the pump.
Reduced downtime. Other features of the new pumps are designed to speed up installation, simplify maintenance, and streamline the selection of spare parts.
Energy savings. An increase of 10% in the heat-exchange area has saved energy by reducing heating requirements for these fluid-heated pumps. All of the new sizes are equipped with a new multilayer heating arrangement as standard. This enhances the processing of temperature- and shear- sensitive polymers and facilitates applications that must comply with the EU's ATEX safety directives.
"Like the smaller-sized new-generation melt pumps that we introduced earlier, the new high-capacity pumps repay their initial cost through improved productivity, enhanced product quality, and energy efficiency," said Christian Schröder, Global Product Line Manager. "Customers benefit from streamlined processes, along with consistent global technical information and support services.
The BKG BlueFlow range includes melt pumps for film, sheet, pipe, profile, fiber, compounding, recycling, polymerization, and hot melt applications. A wide range of pumping capacities or specific volumes is available, from 33 to 4,900 cc/revolution, for throughputs up to 12,000 kg/hr or higher, depending on the application. The melt pumps are for use with polymer viscosities from 5 to 15,000 Pas and at temperatures up to 330 °C. Melt pump models that can deal with other than these standard measures are available upon request. Because Nordson's harmonized BKG BlueFlow melt pumps are designed using a flexible modular system, connections, heating method, etc. can be adapted to country-specific requirements.
Nordson Corporation engineers, manufactures and markets differentiated products and systems used for the precision dispensing of adhesives, coatings, sealants, biomaterials, polymers, plastics and other materials, fluid management, test and inspection, UV curing and plasma surface treatment, all supported by application expertise and direct global sales and service. Nordson serves a wide variety of consumer non-durable, durable and technology end markets including packaging, nonwovens, electronics, medical, appliances, energy, transportation, construction, and general product assembly and finishing. Founded in 1954 and headquartered in Westlake, Ohio, the company has operations and support offices in more than 30 countries. Visit Nordson on the web at http://www.nordson.com, @Nordson_Corp, or www.facebook.com/nordson.
Nordson Polymer Processing Systems provides customers with engineered components to pelletize, filter, meter, and give shape to plastic and fluid coating materials. Nordson Corporation leverages the collective plastics industry experience from a series of strategic acquisitions to offer a uniquely broad portfolio of industry-leading technologies. Nordson delivers a full range of precision melt stream products from filtration systems, pumps, and valves to the extrusion dies and pelletizing systems to meet the constantly evolving needs of the polymer industry.
Nordson Corporation provides customers with local technical sales, service and remanufacturing capabilities through sales organizations and regional manufacturing facilities in over 30 countries. To learn more visit us at http://www.nordsonpolymerprocessing.com, https://www.linkedin.com/company/nordson-polymer-processing-systems/, www.facebook.com/NordsonPPS.
Press Contacts: Robert J. Martino, Martino Communications
1-203-321-0787. bob@martinocommunications.com
More from Software