Latest LeanDrum CF Washer Comes with 1-3 RPM's Variable Speed Drive
Press Release Summary: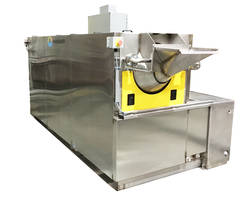 Utilizes stainless steel tanks, pumps, and forced air dryer technology
Offers 12 CU FT/Hour part production rate @ 2PRM design drum speed
Ideal for cold forming applications
---
Original Press Release:
Ransohoff Introduces the LeanDrum CF Washer for High Volume and Cold Forming Cleaning Applications
January 19, 2021 – Cincinnati, OH - Ransohoff, a division of Cleaning Technologies Group LLC, has introduced its LeanDrum CF Washer. This new platform provides an energy efficient, reliable solution for your high-volume cleaning needs, along with an innovated design for cold forming applications.
The LeanDrum CF features a very robust, lower cost option utilizing stainless steel tanks, pumps, drum and housing, premium electrical components, full immersion cleaning system and forced air dryer technology to produce consistently high-quality cleaning results over an extended machine life. With this new design, you may recognize less chemical utilization and have better oil control resulting in a longer bath life. The new LeanDrum CF is designed for easy access that will allow easy drum removal for maintenance.
The new LeanDrum CF is a wash, rinse and blow-off machine in a small footprint of 4.7ft. wide x 9.7ft. long x 5ft. height. The part production rate is 12 CU FT/Hour @ 2PRM design drum speed, with a variable speed drive capable of 1-3 RPM's. This machine offers both spray and full immersion cleaning. The new LeanDrum CF comes standard with 3-2-1 warranty.
For more information about the LeanDrum CF Washer, visit https://www.ctgclean.com/parts-washers/leandrum-cf
Cleaning Technologies Group, LLC is a world leader in providing innovative cleaning and waste minimization technologies to precision and industrial manufacturing markets. CTG is comprised of Ransohoff located in Cincinnati, Ohio, Blackstone~NEY Ultrasonics located in Jamestown, New York, and CTG Asia located in Suzhou, China. The Group is the premier provider of high technology, environmentally friendly parts-cleaning and waste-minimization equipment and services to the global marketplace. CTG LLC is a wholly owned subsidiary of NM Group Global, LLC. 
NM Group Global LLC is a holding company for a growing group of manufacturing firms with a global reach for sourcing and marketing. Founded in 2002 with the purchase of National Machinery LLC, the original holding company, and world leader in the development and manufacture of cold forming machines, process technology, and aftermarket services. National Machinery, founded in 1874, is headquartered in Tiffin, Ohio with service centers and sales offices throughout the world.
Contact Information:
For Cleaning Technologies Group, LLC:
Dave Melton
4933 Provident Drive
Cincinnati, OH 45246
(800) 248-9274
(513) 870-1783
[email protected]
Visit our website at www.ctgclean.com
For Cleaning Technologies Group Asia- Suzhou, China
Enlin Zheng (Ned)
56 Songshan Road, Suzhou New District
Jiangsu Province, China PRC: 215151
(86) 0512-66161698
(362) 529-1244
[email protected]
Visit our website at www.ctgclean.cn
For NM Group Global, LLC:
Bill VanCamp
161 Greenfield Street
Tiffin, OH 44883-2471
(419) 443-2224
[email protected]
Visit our website at www.nationalmachinery.com