Latest Automated Filling Mixing Systems are Now Available for Three Different Size Mixing Containers
Press Release Summary: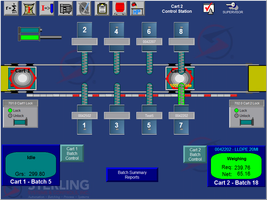 Sterling's Automated Filling Mixing System consists of 2x single scale control panels, 2x VFD electrical control panels and 2x transfer/scale carts. Unit's scale carts travel and collects the batched ingredients during the batching process. Unit indexes the mixer containers to its proper location and automatically controls the feeders and weighs each ingredient in to mixer container.
---
Original Press Release:
Automated Fill of Mixing Containers
Sterling, IL May 2018: Sterling Systems & Controls, Inc. is pleased to announce the design, manufacture and availability of a customized automated filling system for three different size mixing containers. Items included in this customized automation system includes two (2) single scale control panels with Allen Bradley PanelView Plus operator interface terminals and CompactLogix PLC's, two (2) VFD (variable frequency drive) electrical control panels, and two (2) transfer/scale carts with structural frame. The eight (8) ingredient feeders and bins were provided by others. Sterling Systems automation controls the batching process by operating the two-stage feeders as required.
The two (2) transfer/scale carts start their travel during the batching process from points at opposite ends of the system from each other. Once one cart completes its collection of batched ingredients, including automatic and semi-automatic hand adds, the other cart is automatically controlled to then begin its travel to collect its batch of ingredients. When a cart completes its batching cycle it is then manually removed and brought to the mixer where it is connected and the mixing process begins. Once mixing is complete the contents of the cart are emptied downstream in the overall process and the cart returned to the ingredient filling system for the next batch.
This system provides an expandable solution for automatically batching formulas with multiple dry ingredients. The system indexes the mixer containers to the proper locations, then automatically controls the feeders and weighs each ingredient into the mixer container that is sitting on the transfer/scale cart(s), in a gain-in-weight fashion. Customized systems any number of ingredients can be provided.
Sterling Systems & Controls, Inc. has 40+ years of experience providing efficient solutions for process equipment, batching, micro, minor and bulk weighing, bag unloading systems, as well as plant automation. Sterling's designs utilize the latest technology to provide specialized data management, raw material management, along with production data tracking. For more information contact Sterling Systems & Controls at 1-815- 625-0852 sci@sterlingcontrols.com, and at www.sterlingcontrols.com.
More from Packaging Products & Equipment