Electrical / Electronic Probes
Latest Active Differential Probes Meet IEC 61010-031 Safety Standards
Press Release Summary: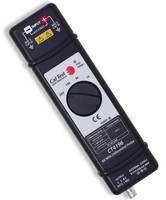 Consists of CT4196, CT4197 and CT4198 models with 60, 100 and 100 MHz bandwidth respectively
The CT4197 probe features 10x/100x/1000x and measures up to 4000 Vrms (max) whereas the CT4198 with 20x/200x/2000x and measures to 8,000 Vrms (max)
The CT4196 probe provides 3 attenuation settings and operates up to 60 MHz
---
Original Press Release:
New Active Differential Probes
Cal Test Electronics is introducing three new active probes to its comprehensive offering of differential oscilloscope probes. The three new probes provide unique features so users can find just the right one for their measurement application. 

Model CT4196, operating up to 60 MHz, features 3 attenuation settings, including 1x for high sensitivity measurements. 

Models CT4197 and CT4198 are a complementary pair of 100 MHz differential probes, both featuring 3 attenuation settings. Model CT4197 features 10x/100x/1000x measuring up to 4,000 Vrms max while Model CT4198 features 20x/200x/2000x measuring to 8,000 Vrms max. These probes come in a rugged plastic tool case. 

All three probes are attractively priced, meet IEC 61010-031 safety standard, and are supplied with a full complement of test accessories.
Product Model: CT4196
60 MHz bandwidth (-3dB)
Up to ±35 V (DC + AC peak)
Attenuation: 1x/5x/10x
MSRP: $465.00
​​CT4197*:
100 MHz bandwidth (-3dB)
Up to ±4000 V (DC + AC peak)
Attenuation: 10x/100x/1000x
MSRP: $750.00
100 MHz bandwidth (-3dB)
Up to ±8000 V (DC + AC peak)
Attenuation: 20x/200x/2000x
MSRP: $930.00
About Cal Test Electronics
For more information, please don't hesitate to contact us. 

Tony Schmidt 
Director of Product Development
aschmidt@caltestelectronics.com 
About Cal Test Electronics
Since 1995, Cal Test Electronics has been serving the electronic and electrical markets with an extensive line of quality test accessories and a commitment to total customer service. We evolved for the specific purpose of providing customers with products they need to get their tasks completed. Our mission is to provide you with both a quality product and 30 years of expert knowledge so that you can remain focused on your goal. Our job is to make your testing life easier. If you are in the electronic, electrical, maintenance or process control industries, we offer the most comprehensive lines of test accessories. With over 3,000 items in 7 product categories, there is almost no test accessory challenge Cal Test cannot meet. 
More from Mechanical Components and Assemblies